September 29, 2020
Russian anti-virus company Doctor Web reports that its Windows product line for home use will be reduced effective October 1. The Dr.Web Anti-virus product, which only provides basic security, will become history. This title will be superseded by Dr.Web Security Space, and all Dr.Web Anti-virus users will have their installations upgraded to Dr.Web Security Space free of charge. Years ago, Dr.Web was one of the first anti-virus applications in the world now one era is ending, while another one begins.
Dr.Web Anti-virus for Windows gives way to Dr.Web Security Space
Facts confirm that a lightweight anti-virus is no longer enough: most incidents prompting users to contact our support service occur because their PCs are either running the basic protection application Dr.Web anti-virus or they have had important Dr.Web Security Space components disabled.
We are striving to ensure that there are no gaping holes in our customers' anti-virus security and are offering them the ability to upgrade to Dr.Web Security Space free of charge. To upgrade, just go to your My Dr.Web portal and download a new key file it is already waiting for you.
Then just download Dr.Web Security Space and follow the installation instructions.
This upgrade will benefit our customers in many ways.

Therefore, after October 1, Dr.Web Anti-virus users will get a complete set of security components free of charge (previously, their anti-virus software included neither the anti-spam, nor the HTTP monitor and Parental Control) as well as protection for their Android device (or multiple handhelds depending on the number of protected PCs). And it won't matter whether you purchased your Dr.Web Anti-virus online or in a box.
After October 1, customers will be able to renew their Dr.Web Anti-virus licenses by purchasing a Dr.Web Security Space license. A renewal discount will apply. If you choose to expand the coverage of your current license, you will also be prompted to upgrade to comprehensive protection. And if you register your serial number after October 1, a Dr.Web Security Space key file will be generated for you instantly no additional payment required!
We are confident that our joint effort will help make anti-virus security more robust for everyone who chooses Dr.Web, and we will be happy to see our close-knit Dr.Web Security Space user community get even bigger!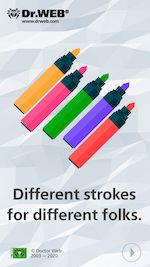 Tell us what you think
To ask Doctor Web's site administration about a news item, enter @admin at the beginning of your comment. If your question is for the author of one of the comments, put @ before their names.
Other comments