Encryption Trojan attacks Spain and France
March 13, 2013
Russian anti-virus company Doctor Web has registered an ongoing massive spread of the encryption malware Trojan.ArchiveLock across PCs outside Russia. The program, dubbed Trojan.ArchiveLock.20, is infecting increasingly more computers in France and Spain.
Last August, Doctor Web issued a warning about Trojan.ArchiveLock encryption malware. This program uses the archiver WinRAR to encrypt files. To spread the malware, criminals mount a brute force attack via the RDP protocol on target machines. Once connected to the attacked PC, cybercriminals launch the Trojan. After gaining control, Trojan.ArchiveLock.20 copies the encryption application to one of the system folders.
Trojan.ArchiveLock.20 then creates a list of files to be encrypted, empties the Recycle Bin, and deletes all backups stored on the computer. The Trojan uses the console version of WinRAR to place files on the compiled list into password-protected, self-extracting archives and employs a special utility to delete original files, after which they simply can't be restored.
An archive protection password can be up to 50 characters long. Then Trojan.ArchiveLock.20 displays a message offering the password needed to extract the files from the archive in exchange for 5,000 USD and advising the user to contact technical support via one of the following email addresses:
sec777999@gmail.com,
sec222555@gmail.com,
sec333888@gmail.com,
sec333888@gmail.com,
ausec222999@gmail.com,
sec777999@gmail.com,
casec222777@gmail.com,
auidhelp@gmail.com,
sec777999@gmail.com,
sec222555@gmail.com,
sec333888@gmail.com,
ausec222999@gmail.com,
casec222777@gmail.com,
auidhelp@gmail.com,
usidhelp2@gmail.com,
frsechelp@gmail.com,
spainsec1@gmail.com,
spainsec2@gmail.com.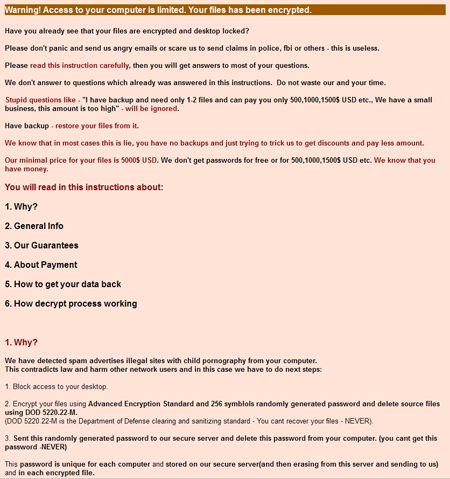 A significant number of systems have now been compromised by the Trojan in Spain and France: over the past 48 hours, Doctor Web's technical support has gotten dozens of requests from people whose files have been encrypted by Trojan.ArchiveLock.20, and such requests are still being received. Even though the ransom demand message claims that the password can't be cracked, in many cases the hash function sha1 allows files to be decrypted, something Doctor Web reported on in August 2012.
Doctor Web recommends that under no circumstances should users whose systems have been infected with Trojan.ArchiveLock.20 delete any files from the hard disk or try to reinstall the operating system. To decrypt the compromised files, you can contact Doctor Web by submitting a ticket in the Request for Curing category. This service is provided free of charge.
Your opinion counts
Sign in or register to comment on our news posts and take advantage of other benefits available to registered users. You will be awarded one Dr.Webling per comment. You can exchange your Dr.Weblings for gift certificates that can be used to purchase Dr.Web at a discount.
Other comments