October 26, 2023
In early September, Doctor Web published a study of Android.Pandora.2, a backdoor that creates a botnet of infected devices and can carry out DDoS attacks at the command of threat actors. In the middle of the month, our specialists informed users about malicious programs from the Android.Spy.Lydia family. These multi-functional spyware trojans target Iranian users. Members of this family are camouflaged as a financial platform for online trading; they can perform various malicious actions at the command of attackers. This includes intercepting and sending SMS, collecting information about user phonebook contacts, hijacking clipboard contents, loading phishing websites, and so on. The Android.Spy.Lydia trojans can be used in a variety of fraudulent schemes and to steal personal data. Moreover, with their help, threat actors can steal their victims' money.
According to detection statistics collected by Dr.Web for Android, in September 2023, Android malware was less active, compared to the previous month. For instance, Android.HiddenAds and Android.MobiDash adware trojans were detected 11.73% and 26.30% less often, respectively. The number of spyware trojan attacks decreased by 25.11%, Android.Locker attacks by 10.52%, and banking malware by 4.51%. At the same time, Android device owners encountered unwanted adware programs 14.32% more often.
Many new threats were uncovered on Google Play over the course of September. Among them were Android.FakeApp trojan apps used in different fraudulent schemes, Android.Joker trojans, which subscribe victims to paid services, and also Android.HiddenAds adware trojans.
PRINCIPAL TRENDS IN SEPTEMBER
A decrease in Android malware activity
The emergence of new malicious apps on Google Play
Mobile threat of the month
In September, Doctor Web presented the details of its Android.Pandora.2 malware analysis; this trojan primarily targets Spanish-speaking users. The first cases of attacks involving it were recorded in March 2023.
This malicious program infects Smart TVs and television boxes with the Android TV operating system via compromised firmware or when users install trojanized versions of software for illegally watching videos online.
The main function of Android.Pandora.2 is to perform various types of DDoS attacks at the command of cybercriminals. In addition, this trojan can perform a number of other actions, like installing its own updates and replacing the system hosts file.
A study performed by Doctor Web's malware analysts revealed that when creating this trojan, virus writers borrowed from the authors of Linux.Mirai, taking part of its code and using it as the basis for their trojan. Since 2016, Linux.Mirai has been widely used to infect IoT (the "Internet of things") devices and to perform DDoS attacks on various websites.
According to statistics collected by Dr.Web for Android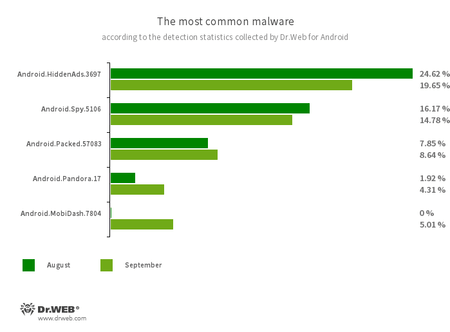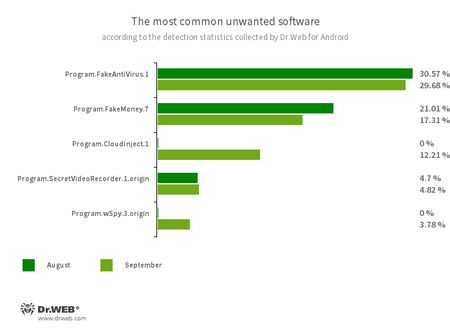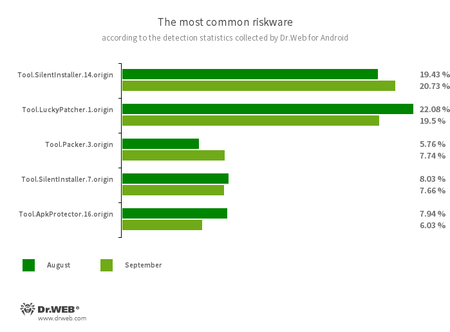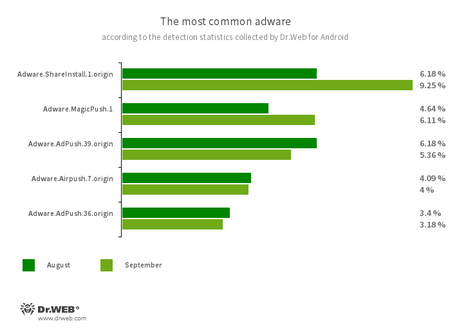 Threats on Google Play
In September, Doctor Web's malware analysts uncovered many new malicious apps on Google Play. Among them were trojans that displayed intrusive ads. Threat actors distributed them under the guise of such games as Agent Shooter (Android.HiddenAds.3781), Rainbow Stretch (Android.HiddenAds.3785), Rubber Punch 3D (Android.HiddenAds.3786), and Super Skibydi Killer (Android.HiddenAds.3787). Once these trojans were installed on Android devices, they tried to hide from users. For this, they replaced their icons, located on the home screen menu, with transparent versions and also changed their names so they were left blank. In addition, they could pretend to be a Google Chrome browser by replacing their own icons with the corresponding copy. When users tap on such an icon, these trojans launch the browser and continue to operate in the background. This allows them to become less noticeable and reduces the likelihood of their premature removal. Moreover, if these malicious programs stop working, users will restart them, thinking that they are launching a browser.
Our specialists also discovered other fake apps from the Android.FakeApp family. Some of them (like Android.FakeApp.1429, Android.FakeApp.1430, Android.FakeApp.1432, Android.FakeApp.1434, Android.FakeApp.1435, and others) were distributed as financial software—for example, as apps for stock trading, guides and reference books, home accounting, and others. In reality, their primary objective was to load fraudulent sites where potential victims were encouraged to become "investors".
Other fake programs (for example, Android.FakeApp.1433, Android.FakeApp.1436, Android.FakeApp.1437, Android.FakeApp.1438, Android.FakeApp.1439, and Android.FakeApp.1440) were passed off by cybercriminals as different gaming apps. In some cases, these could actually operate as games, but their main functionality was to load online casino websites.
Examples of how these operate in game mode:
Examples of the online casino websites they load:
At the same time, other trojan apps from the Android.Joker family were discovered on Google Play. These were subscribing victims to paid services. One of them, dubbed Android.Joker.2216 in accordance with Doctor Web's classification system, was disguised as an image collection app called Beauty Wallpaper HD. Another one was distributed as Love Emoji Messenger, an online messenger, and was added to the Dr.Web virus database as Android.Joker.2217.
To protect your Android device from malware and unwanted programs, we recommend installing Dr.Web anti-virus products for Android.
Indicators of compromise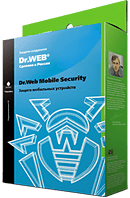 Your Android needs protection.
Use Dr.Web
The first Russian anti-virus for Android
Over 140 million downloads—just from Google Play
Available free of charge for users of Dr.Web home products