December 28, 2018
The year 2018 saw the spread of Trojans for coverting cryptocurrency mining. The malicious software targeted not only Microsoft Windows users, but also various Linux device owners. Encoders that encrypt files on infected computers and demand a ransom for decryption are not losing their momentum either. In February and April, Doctor Web experts detected two new additions to this family. One of them was unable to repair the files even after payment, despite the claims of virus writers.
In late March 2018, we investigated Trojan.PWS.Stealer.23012, distributed on YouTube. It was written in Python and stole files and other confidential information from infected devices. An investigation by Doctor Web analysts helped reveal the creator of this malware and several of its modifications. Another investigation helped find the attacker who stole confidential information from Steam game platform users using Trojan.PWS.Steam.13604, specifically created for that purpose. In October, Doctor Web specialists thoroughly investigated the activities of an online cryptocurrency fraudster who conned tens of thousands of dollars from Internet users.
Throughout the year, cybercriminals had been luring their victims to fake websites and sending them bulk emails. At the beginning of the year, the attackers were sending emails on behalf of the Mail.Ru Group, trying to get ahold of their users' logins and passwords; while in spring, they switched to sending fake cash reward offers. In summer, spammers continued pestering domain administrators, posing as representatives of the RU-CENTER hosting provider and demanding payments to renew the registration of domain names owned by potential victims.
In 2018, users of Google Android mobile devices did not escape the attention of virus writers. Back in January, information security experts detected infected games that were downloaded from Google Play more than 4,500,000 times. A little later, we discovered Android mining software that could infect 8% of various smart devices, such as TVs, streaming boxes, routers, and other IoT devices.
Throughout the year, malware analysts had been warning users about the spread of banking Trojans for Android with the widest range of functions. Analysts also detected several fake apps posing as popular Android applications used for phishing. Some mobile Trojans signed their victims up to chargeable services, others earned money through invisible advertising, and we also discovered Trojans that downloaded other malware onto the infected device.
Principal trends of the year
The spread of Trojan miners, designed to covertly mine cryptocurrencies using hardware of infected computers
New malicious programs for Linux and IoT
More malware for devices running Google Android
Most notable events of 2018
In February 2018, a new Trojan encoder was detected and added to the Dr.Web virus database as Trojan.Encoder.24384. This malware collects information about antiviruses running on an infected device and is able to terminate active applications via a list prepared by virus writers. The Trojan encrypts files on all hard drives, removable media, and network drives, except a number of service and system folders.
Another encoder, known as Trojan.Encoder.25129, tried to determine the victim's location using the IP address of the device. Virus writers meant to cancel the encryption for Russian, Belarusian, or Kazakh (also in cases where system language and parameters are set to Russian) IP addresses; but due to a code error, the encryption was performed anyway without this condition. After completing the malicious activity, the Trojan displayed a ransom demand on screen.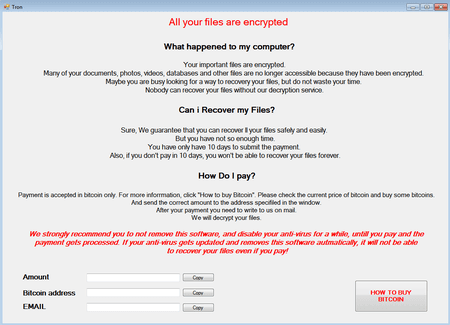 Unfortunately, the code of this Trojan contained more than one error, so even its authors eventually found it impossible to decrypt the corrupted files. This once again emphasizes the importance of timely backup of all important files.
In late March, Doctor Web analysts investigated the spyware Trojan.PWS.Stealer.23012, written in Python and intended to steal confidential data. The malware, as well as its several modifications, was distributed via YouTube video description links. The videos described play through cheating methods (the so-called "cheats") with the help of special applications and were actively advertised on Twitter.

A month and a half later, our experts managed to find the author of these Trojans. The malware and its modifications were stealing stored passwords and cookies from Chrome browsers, information from Telegram, FileZilla FTP client, images, and office documents according to a predetermined list. One of the Trojan's modifications was actively advertised on various Telegram channels. Logins and passwords to cloud storages, where the archives with the stolen files were uploaded to, were embedded in the Trojans, so that Doctor Web's virus analysts identified both the author of malware and all their customers. This investigation was described in detail in the corresponding article on our website.
Another investigation made public in late May, centered around the author of spyware that stole personal data from Steam game platform users. The attacker used several money extraction methods at once including, fraudulent roulettes (auctions, where users can sell different game items) won by bots but created by the fraudster, as well as malware rentals. To spread the Trojans, the cybercriminal used social engineering methods and fake websites.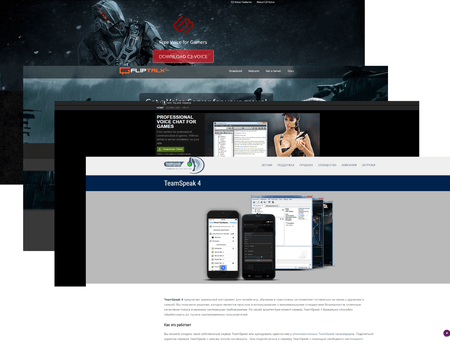 Operating principles of spyware Trojan.PWS.Steam.13604 and Trojan.PWS.Steam.15278, as well as their creator, were described in detail in our article.
In summer, Doctor Web analysts warned users about the new miner Trojan.BtcMine.2869, which used the same methods for its distribution as the notorious encoder Trojan.Encoder.12544, known as Petya, Petya.A, ExPetya and WannaCry-2. The Trojan infected victims' computers using the update feature of the Internet Cafe software for computer clubs and Internet cafes. . Between May 24 and July 4, 2018, the miner managed to infect more than 2,700 computers.
In September, Doctor Web specialists discovered the banking malware Trojan.PWS.Banker1.28321, which was distributed under the guise of Adobe Reader and targeted customers of Brazilian financial institutions.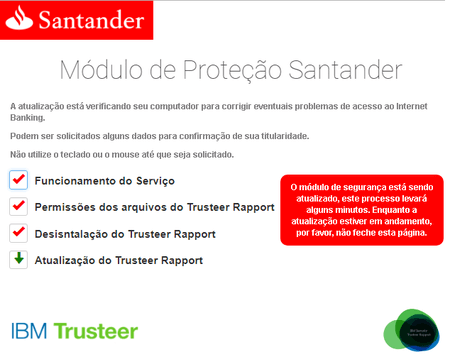 When users attempted to open the online banking page of various Brazilian financial organizations, the Trojan replaced it with a fake login and password entry form. In some cases, it prompted the user to specify the verification code from the text message they received from the bank. This information was then transmitted to attackers. Our virus analysts have identified over 340 unique instances of Trojan.PWS.Banker1.28321, and also discovered 129 domains and IP addresses of online resources belonging to the cybercriminals. See more details in the overview published on our website.
Another investigation ended in mid-October. We looked into the activities of a cybercriminal in the cryptocurrency market. The attacker used a whole range of malware, such as Eredel, AZORult, Kpot, Kratos, N0F1L3, ACRUX, Predator The Thief, Arkei, Pony, and many more.To achieve their goals, they created several phishing websites to replicate real Internet resources. Among them were a fake cryptocurrency exchange, a pool of devices for Dogecoin mining, allegedly leased at competitive prices, and a partner program offering a reward for viewing Internet websites.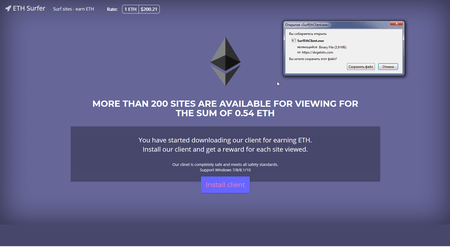 Another project is an online lottery with the prize consisting of a certain amount of Dogecoin cryptocurrency. Lotteries were designed in so that it was impossible for a third-party participant to win; only the organizer could make money. Other initiatives included, traditional phishing schemes and an affiliate program offering Dogecoins for browsing web pages with ads. When a user tried to download a client for that purpose, they would actually download a Trojan from the cybercriminal's website. Read more on these types of fraud in our article.
In November, the malware Trojan.Click3.27430 used for increasing website traffic was detected. The Trojan disguised itself as the DynDNS program that allows you to bind a subdomain to a computer that has no static IP address.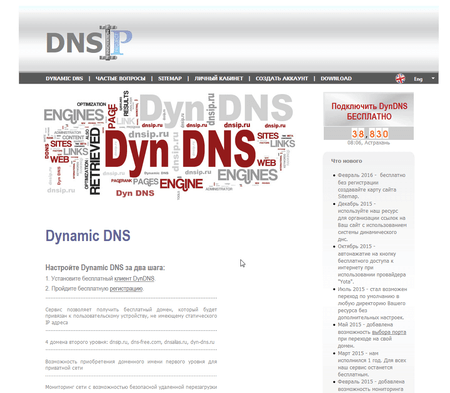 According to Doctor Web analyst information, some 1,400 users have been affected by this Trojan by now, with the first cases occurring in 2013. See more information on this incident in the newsletter on our website.
Virus situation
According to Doctor Web statistics servers, 2018 saw many malicious JavaScript scripts embed third-party content into web pages and mine cryptocurrencies, as well as Trojan spyware and malicious loaders.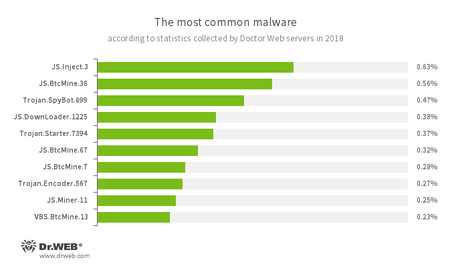 JS.Inject

A family of malicious JavaScripts that injects a malicious script into the HTML code of webpages.
A family of JavaScript scenarios designed to covertly mine cryptocurrencies.
A multi-module banking Trojan. It allows cybercriminals to download and launch various applications on an infected device and their commands to be executed. The Trojan is intended to steal money from bank accounts.
A family of malicious scripts written in JavaScript and designed to download and install other malware programs on a computer.

Trojan.Starter.7394

A Trojan whose main purpose is to launch an executable file with a specific set of malicious functions in an infected system.

Trojan.Encoder.567

An encryption ransomware Trojan that encrypts files and demands a ransom to decrypt the compromised data.

JS.Miner

A family of JavaScript scenarios designed to covertly mine cryptocurrencies.

VBS.BtcMine

A family of VBS scripts designed to covertly mine cryptocurrencies.
A similar picture is observed in the analysis of mail traffic; but overall, spyware Trojans are much more common in email attachments: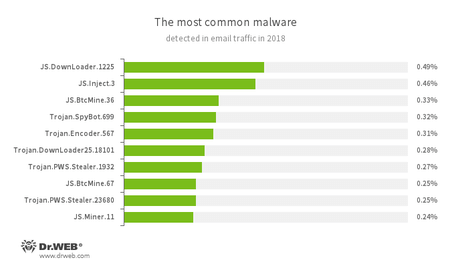 A family of malicious scripts written in JavaScript and designed to download and install other malware programs on a computer.

JS.Inject

A family of malicious JavaScripts that injects a malicious script into the HTML code of webpages.
A family of JavaScript scenarios designed to covertly mine cryptocurrencies.
A multi-module banking Trojan. It allows cybercriminals to download and launch various applications on an infected device and their commands to be executed. The Trojan is intended to steal money from bank accounts.

Trojan.Encoder.567

A malicious program belonging to the family of encryption ransomware Trojans that encrypt files and demand a ransom to decrypt compromised data.
A family of malicious programs designed to download other malware to the compromised computer.
A family of Trojans designed to steal passwords and other confidential information stored on an infected computer.

JS.Miner

A family of JavaScript scenarios designed to covertly mine cryptocurrencies.
Encryption Trojans
Compared with the previous year, the number of user calls to Doctor Web technical support due to encryptions by Trojan encoders dropped in 2018. We saw a slight rise in the number of victims from May to August. The fewest calls were recorded in January, while November saw the greatest.

According to statistics, the Trojan.Encoder.858 was the most common malware on user devices. The Trojan.Encoder.11464 landed in second place, while Trojan.Encoder.567 was in third.
The most common ransomware programs in 2018:
Dr.Web Security Space for Windows protects against encryption ransomware
Linux malware
In 2018, malicious programs for Linux most often manifested themselves as miners. The first such attacks on Linux servers were detected by Doctor Web virus analysts in early May 2018. Cybercriminals connected to a server via SSH, selected a login and a password using bruteforce and then disabled the iptables utility controlling the firewall after successful authorization on the server. Then the attackers uploaded the miner utility and the configuration file to the compromised server. Some time later, they started using malware for this purpose. In August, virus analysts discovered the Linux.BtcMine.82 written in Go. It was a dropper that installed a miner on infected devices.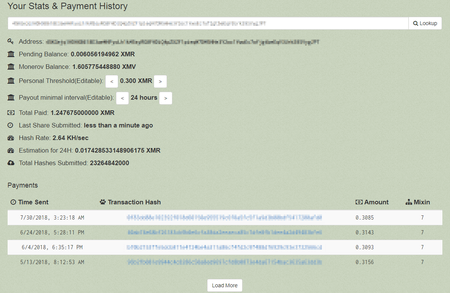 Having investigated the server where this malware was downloaded from, our experts discovered Trojans with similar functions for Microsoft Windows. Read more about this incident in the article on our website.
In November, we discovered another Linux miner dubbed Linux.BtcMine.174. It is a large shell script with over 1000 lines of code. This Trojan consists of several modules and can disable antivirus programs running on an infected device, as well as infect other devices on the network. It also downloads and installs a version of Linux.BackDoor.Gates.9, designed to execute commands from cybercriminals and launch DDoS attacks on an infected machine. We described this malware in the news article.
Dangerous and non-recommended websites
Parental (Office) control and SpIDer Gate databases are regularly updated with new addresses of non-recommended and potentially dangerous websites. There are fraudulent and phishing resources, as well as malware distributing pages. This year's trends for adding information to these databases is shown in the diagram below.

Network fraud
Internet fraud is a very common criminal business. In 2018, online criminals remained notably active. In early March, were detected bulk phishing emails, allegedly sent on behalf of the Mail.Ru Group. The attackers wanted to obtain the credentials of the Mail.Ru email server users; and thus used a fake website, which mimicked the design of this popular email service.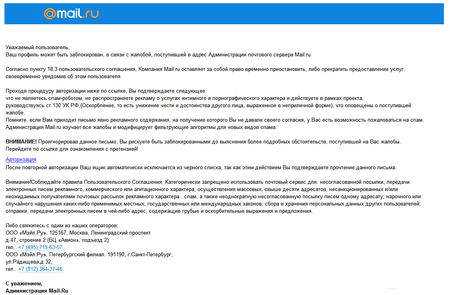 In May, we told our readers about another online fraud mechanism, which took advantage of generous offers for social benefits. The victims were lured to specifically created websites by spam and bulk text messages. Once there, they were offered an opportunity to receive refunds for overpayed public utilities, medical services, or compulsory insurance. To get the money, the criminals demanded a small sum be transferred to their account. Of course, no refunds was given to users who transferred the money.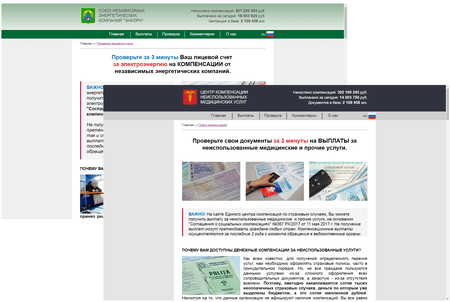 Doctor Web experts revealed more than 110 similar websites between February and May 2018. In August, the attackers began sending letters to domain administrators registered with the RU-CENTER hosting provider. The cybercriminals demanded money for renewing soon-expiring domains, but indicated the details of their own Yandex.Money wallet instead of the official banking details of RU-CENTER.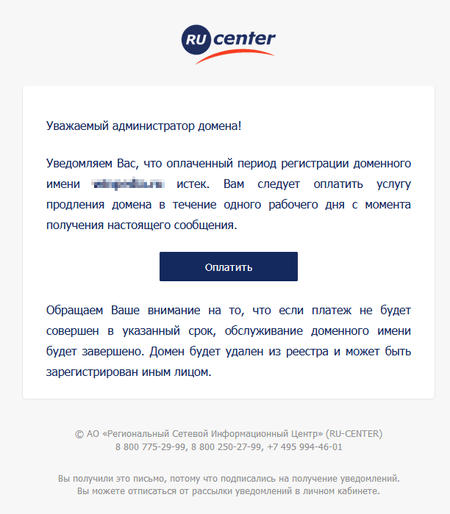 Attackers often send emails on behalf of well-known companies. The popular Aliexpress online store was no exception. The criminals invited its regular customers to visit a special online store with numerous discounts and gifts.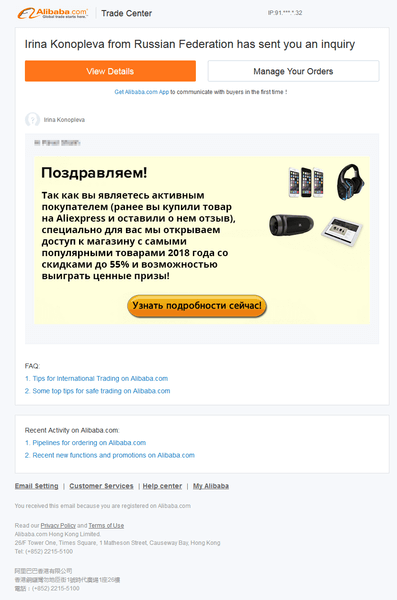 The "store" was actually a page with links to various fraudulent marketplaces that sold substandard goods or goods at inflated prices. We are still not sure how the attackers managed to accumulate a database with the contact information of real Aliexpress customers.
Mobile devices
In the past year, Android device users were bombarded with malware. The list included banking Trojans trying to steal money from the users from Russia, Turkey, Brazil, Spain, Germany, France, and other states. In spring, virus analysts discovered the Trojan Android.BankBot.344.origin, which was spread under the guise of a multi-function banking application and attacked customers of Russian financial institutions. Android.BankBot.344.origin requested that the victim indicate their personal credentials in the online banking system, as well as a bank card number. The Trojan then transmitted the data to the attackers.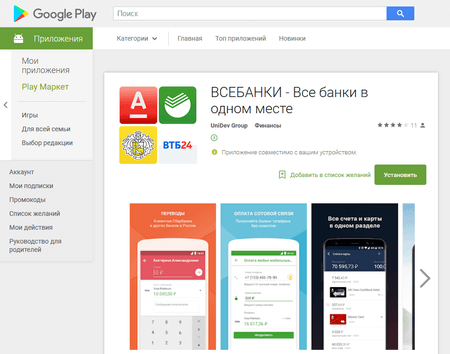 In November, Doctor Web experts investigated the software Android.Banker.2876, designed for European Android device users. It hooked SMS messages, stole phone number information and other confidential data.
In December, we detected the Trojan Android.BankBot.495.origin, targeting Brazilian users. It tried to access the Android Accessibility features and use them to read the windows of banking applications and manage them by pressing menu buttons. Additionally, Android.BankBot.495.origin overlaid fake forms on compromised programs and prompted the victim to enter authentication data.
Throughout the year, virus writers were actively spreading Android bankers, based on the open source code of the Android Trojan Android.BankBot.149.origin. The list included the malware Android.BankBot.250.origin and Android.BankBot.325.origin. They are not only able to steal confidential data, but they also allow attackers to remotely access the infected devices.
A lot of banking malware ended up on devices thanks to Trojan downloaders such as, Android.DownLoader.753.origin, Android.DownLoader.768.origin, and Android.DownLoader.772.origin. Cybercriminals presented them as useful programs; while in fact they downloaded and tried to install banking Trojans. Similar loaders were used to distribute other malicious applications for example, Android.Spy.409.origin and Android.Spy.443.origin, as well as the adware Android.HiddenAds.710 and Android.HiddenAds.728, were reported by Doctor Web in August.
In 2018, Android users were again targeted by Trojans of the Android.RemoteCode family, which could download arbitrary code from the Internet. One of them dubbed Android.RemoteCode.127.origin, was detected by virus analysts in February. Android.RemoteCode.127.origin downloaded auxiliary modules that in turn downloaded and launched other malicious plugins with various functions. To prevent the Trojan components from being detected, the attackers encrypted them and hid them in images.


Another Trojan of this family, added to the Dr.Web virus database as Android.RemoteCode.152.origin, downloaded and launched adware modules. They created invisible banners for Android.RemoteCode.152.origin to click on, thus making money for the cybercriminals.
To obtain money illegally, cybercriminals used other malicious programs as well, including Trojan miners such as Android.CoinMine.15. It infected various Android devices, i.e. routers, streaming boxes, media players, smart TVs, etc. Android.CoinMine.15 was spreading like a worm virus, infecting the equipment with the open 5555 port, which used by Android Device Bridge.
In autumn, Doctor Web experts discovered the Android.Clipper.1.origin clipping Trojan, which replaced numerous electronic wallets of the popular payment systems Yandex.Money, Qiwi, and Webmoney (R and Z), as well as Bitcoin, Litecoin, Etherium, Monero, zCash, DOGE, DASH, and Blackcoin cryptocurrencies, in the clipboard. When copying the number of one of them to the clipboard, Android.Clipper.1.origin replaced it with the details of the wallet belonging to virus writers, so that inattentive users could transfer their money to attackers.
Virus writers actively used Trojans for fraudulent purposes. A popular scheme in 2018 was to offer of reward for participating in polls. When launched, such Trojans displayed a webpage created by the attackers. There, potential victims were asked to answer a few questions. To get money from users, some kind of verification or other form of payment was required; but after sending the funds, the users of the infected devices did not receive anything. Clicker malware that opened websites with ads and automatically clicked on them were also popular. See more details in the article.
Another type of fraud was to subscribe owners of Android mobile devices to expensive services. Trojans such as Android.Click.245.origin opened websites that invited the victims to download various software. For that, they were asked to indicate their phone numbers where verification codes would be sent. However in some cases, the subscription was automatic. This type of fraud was covered in our news article.
In the year 2018, new cases of Android firmware infection were detected. We reported one of them in March. Virus analysts detected the Trojan Android.Triada.231 in the firmware of more than 40 models of mobile devices. The attackers embedded this malware into one of the system libraries in the source code. Android.Triada.231 ran automatically every time infected smartphones and tablets were switched on. Upon launch, it embedded itself into the Zygote system process responsible for launching other processes. As a result, the Trojan infected all of them and could covertly perform malicious activities. The main function of Android.Triada.231 is to covertly download, install and remove programs.
Prospects and possible trends
Even though 2018 saw no serious virus outbreaks, new waves of bulk distribution are quite possible in the future. The number of malicious scripts in various languages will continue to grow. Such scripts will not only target devices running Microsoft Windows, but also other systems, specifically Linux.
New Trojans for covertly mining cryptocurrency using the hardware of infected devices will appear as well. Cybercriminals are likely to remain interested in the Internet of Things, too. Trojans for smart devices already exist, but their number will surely grow in the near future.
There is also strong reason to believe that virus writers will be creating and distributing new Trojans for Google Android in 2019. This year's trends have demonstrated that advertising and banking Trojans will most likely be prevalent among mobile malware.
Finally, the number of fraudulent emails is unlikely to decrease. Online fraudsters will continue inventing new ways to deceive Internet users. Be that as it may, new threats to information security will certainly appear in the coming year. This means it is very important to provide reliable and up-to-date antivirus protection for our devices.