May 10, 2016
Doctor Web has updated its Dr.Web bot for Telegram. Now it supports the Persian language.
To use the bot, find the Telegram account @DrWebBot (or go to telegram.me/drwebbot) and send it a file or a link. The bot will check it for viruses and report on the results.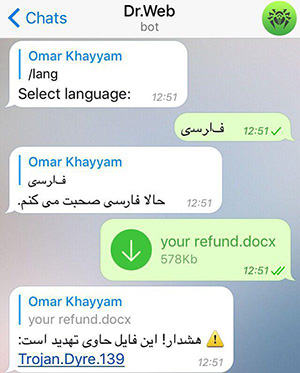 Tell us what you think
To ask Doctor Web's site administration about a news item, enter @admin at the beginning of your comment. If your question is for the author of one of the comments, put @ before their names.
Other comments