Users report receiving spam ICQ messages containing links to a phishing web-site that fakes design of the popular Russian social networking web-site vkontakte.ru. Once a user enters his login information, the data is sent to cyber-criminals while the user is redirected the genuine web-site.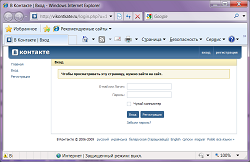 Tell us what you think
To ask Doctor Web's site administration about a news item, enter @admin at the beginning of your comment. If your question is for the author of one of the comments, put @ before their names.
Other comments