December 4, 2013
Russian anti-virus company Doctor Web is pleased to announce the release of Dr.Web 9.0 for Android. The Security Auditor that troubleshoots the mobile device to determine security problems and offer possible solutions is the new version's main innovation. The product also incorporates other important improvements and fixes of known defects. Simultaneously with the release of 9.0, Dr.Web 7.0 for Android Light is being updated, too.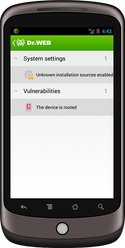 The new component—Security Auditor—identifies system settings that can affect device safety; system vulnerabilities that can be exploited by criminals to damage a device or harm its user; and installed applications that hamper the anti-virus's operation. It can also detect other factors that could potentially threaten the device's security. According to the audit results, the component displays detailed information about particular problems identified and suggests a solution.
The Cloud Checker now supports the Amazon Silk browser used by Amazon Kindle. Also, Dr.Web for Android now supports Samsung Multi Window, which facilitates the simultaneous operation of two applications and the exchange of information between the windows. This feature is also available in Dr.Web 7.0 for Android Light.
Several changes have been made to the Dr.Web for Android interface. Thus, the Anti-theft will display an alert about the possible deletion of data only if the option to remove data after 10 failed password-entry attempts is enabled.
Known defects have been corrected.
The updated versions of Dr.Web for Android support the Kazakh language.
Dr.Web 9.0 for Android and the updated Dr.Web 7.0 for Android Light are available on Google Play (Dr.Web Anti-virus, Dr.Web Anti-virus Life License, and Dr.Web Anti-virus Light) and on Doctor Web's site (Dr.Web for Android).
Dr.Web for Android will be updated automatically. If automatic updates are disabled on the device, go to Google Play, choose Dr.Web Anti-virus, Dr.Web Anti-Virus Life license or Dr.Web Anti-virus Light on the application list, and click "Update".
To update via the Doctor Web site, you need to download a new distribution file. If the option "New application version" is enabled, a new version notification will be displayed when updating the virus databases. You can start the download directly from this dialogue box.
Tell us what you think
To ask Doctor Web's site administration about a news item, enter @admin at the beginning of your comment. If your question is for the author of one of the comments, put @ before their names.
Other comments