October 10, 2013
Russian anti-virus company Doctor Web has had its license renewed by the Ministry of Defence to continue developing IT security solutions till October 4, 2018. This license entitles Doctor Web to design, develop, manufacture, assemble, install, configure, test and maintain information security solutions.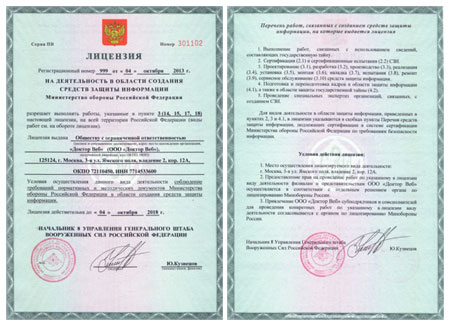 Since 2000, Doctor Web has regularly received certificates from the Russian Defence Ministry, and the IT security software development license was first obtained by Doctor Web in 2005.
The complete list of licenses and certificates held by Doctor Web can be found here.
Tell us what you think
To ask Doctor Web's site administration about a news item, enter @admin at the beginning of your comment. If your question is for the author of one of the comments, put @ before their names.
Other comments