September 18, 2013
Russian anti-virus company Doctor Web has released the ninth version of its Dr.Web for Mac OS X. New features improve the application's usability; the program itself now runs faster and is more stable.
The new version boasts increased scanning speed and lower consumption of system resources during virus checks. Dr.Web Anti-virus for Mac OS X has become even more stable. Updating is also faster and more efficient.
With version 9.0, application installation and removal is simpler than ever: to install, simply drag Dr.Web for Mac OS X from the dmg-image into the /Applications directory and run it; and to remove it, simply drag it trash.
Dr.Web for Mac OS X interface has also been improved to make it even more user-friendly. The License Manager is now much easier to use. Now the program displays on-screen notifications about various events related to the anti-virus's operation. Users can define events they want to be notified about or disable notifications.
In addition to other languages, supported by earlier versions, Dr.Web Anti-virus 9.0 for Mac OS X also supports Spanish and Italian.
The new version is compatible with Mac OS X 10.6 and later.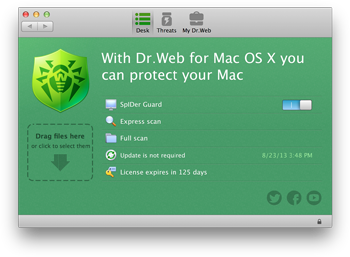 To upgrade to version 9.0, users will need to download a new distribution.
Dr.Web Anti-virus for Mac OS X is available under the comprehensive license for Dr.Web Security Space. If less than three months remains on your current license, you can expand it to protect up to five computers free of charge.
Please recall that users who have purchased the product can take advantage of Dr.Web for Android, Symbian OS and Windows Mobile free of charge.
Tell us what you think
To ask Doctor Web's site administration about a news item, enter @admin at the beginning of your comment. If your question is for the author of one of the comments, put @ before their names.
Other comments