April 20, 2022
Doctor Web is marking the 30th anniversary of its Dr.Web anti-virus by launching a special promo: from April 20-26, a 3-year/2PC license for our comprehensive protection product Dr.Web Security Space will be available at the price of a 2-year license.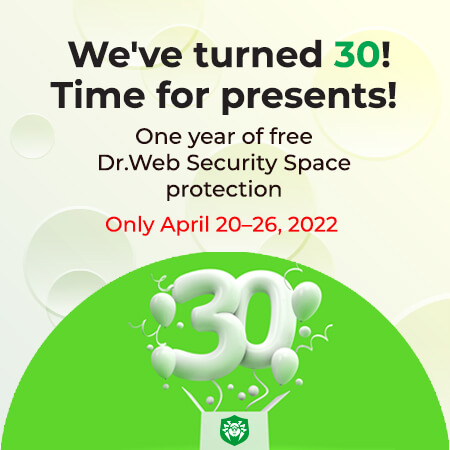 So, during the promo period, the license price will be reduced from 86.58 Euro to 63.84 Euro
Dr.Web Security Space incorporates the most advanced anti-virus security technologies, whose development and refinement constitute a history that now spans 3 decades. The complete set of security components will neutralise any Internet threats, regardless of where they may choose to compromise a system: Dr.Web protects the file system, filters out spam messages, and prevents users from stumbling upon dangerous websites. With Dr.Web, encryption ransomware is a security hazard no more.
Don't forget that a Dr.Web Security Space license comes with anti-virus protection for Android as a free gift. So, thanks to the promo, you can get an anti-virus for 2 mobile devices simultaneously at no additional cost whatsoever.
Join our celebration and get a great deal on Dr.Web!
Tell us what you think
To ask Doctor Web's site administration about a news item, enter @admin at the beginning of your comment. If your question is for the author of one of the comments, put @ before their names.
Other comments