September 15, 2023
According to detection statistics collected by Dr.Web for Android, in July 2023, users encountered Android.HiddenAds adware trojans 33.48% more often, compared to June. At the same time, adware trojans from the Android.MobiDash were detected 24.11% less often. The number of spyware trojan attacks decreased by 2.81%, compared to the previous month. In contrast, the activity of banking trojans increased by 2.31%, while the activity of ransomware from the Android.Locker family increased by 8.53%.
New threats were detected on Google Play. Among them were other malicious applications that subscribed victims to paid services and a trojan app through which cybercriminals tried to steal cryptocurrency from Android device users.
PRINCIPAL TRENDS IN JULY
An increase in Android.HiddenAds adware trojan activity
A decrease in Android.MobiDash adware trojan activity
An increase in banking malware and ransomware trojan activity
New threats detected on Google Play
According to statistics collected by Dr.Web for Android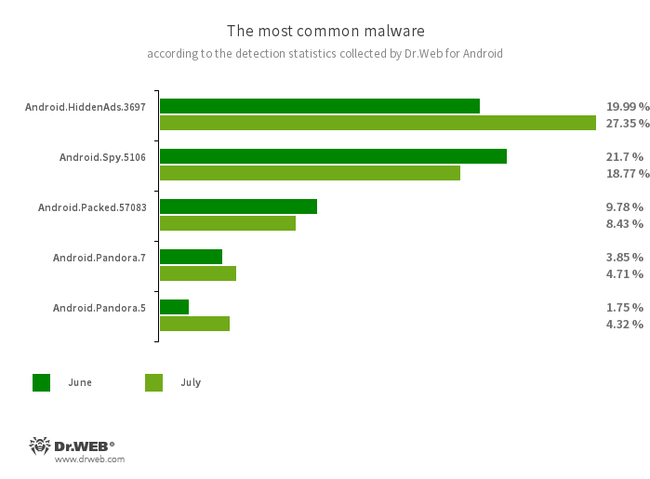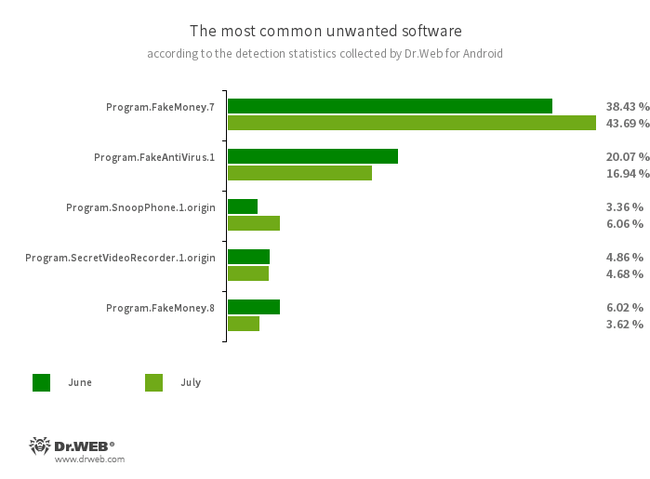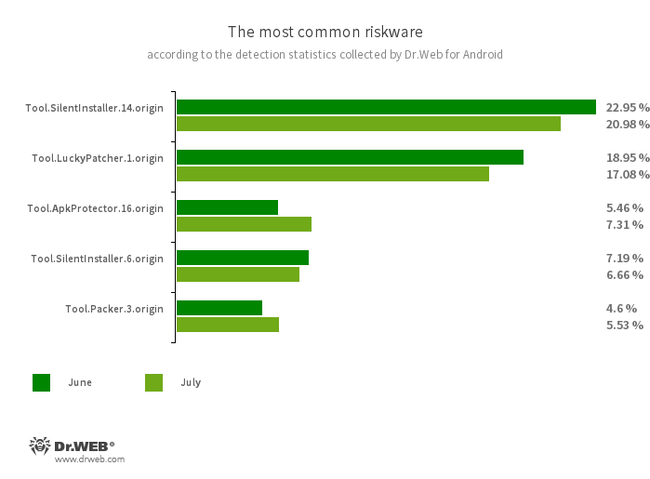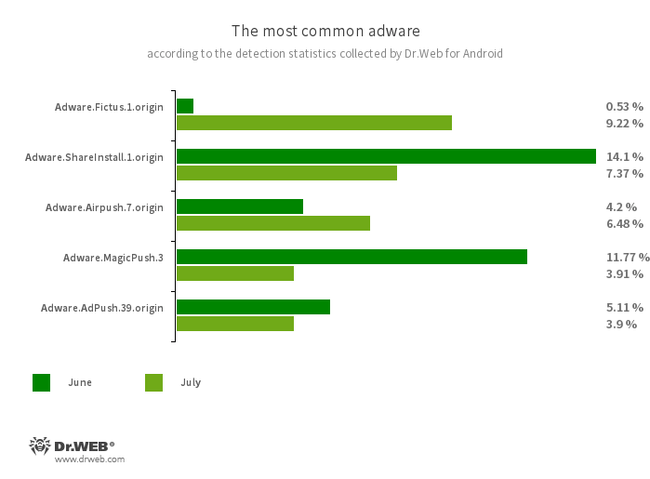 Threats on Google Play
In July on Google Play, Doctor Web's virus laboratory discovered the Android.CoinSteal.105 trojan application, which is designed to steal cryptocurrency. Threat actors tried passing it off as an official application of the P2B crypto exchange. The genuine app's name is "P2B official", while the fake one was called something similar—"P2B Trade: Realize The P2Pb2b".
In the next image, on the left, is a screenshot of the genuine program on Google Play, while on the right is a screenshot of the fake variant.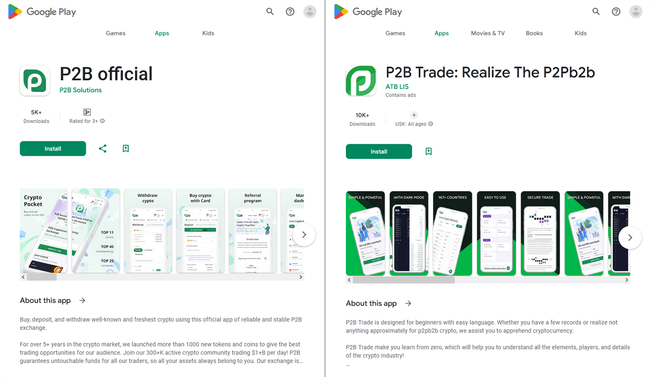 At the same time, the phony application was promoted by crypto bloggers. As a result, it was installed twice as many times as the original.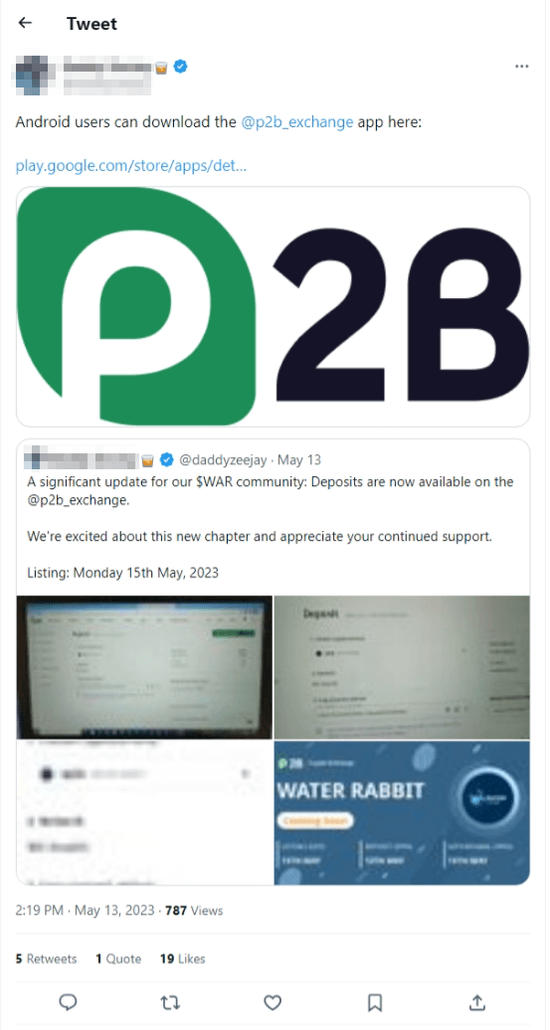 Upon launch, this trojan loads in WebView the TDS (Traffic Delivery System) website specified by the attackers. This site then performs a chain of redirects to other web resources. As of now, the trojan ends up loading the official website of the P2P crypto exchange: https://p2pb2b.com. However, other sites could potentially be loaded as well, including fraudulent ones, or ones that contain ads.
After the crypto-exchange website is loaded, Android.CoinSteal.105 injects JavaScript scripts into it. Using these scripts, it substitutes the crypto-wallet addresses that users enter to withdraw crypto currency.
Moreover, cybercriminals again used Google Play to distribute malicious applications that subscribed victims to paid services. Among them was the Android.Harly.80 trojan. Hidden in the Desktop Pets – Lulu interactive program, it allowed users to interact with a virtual pet.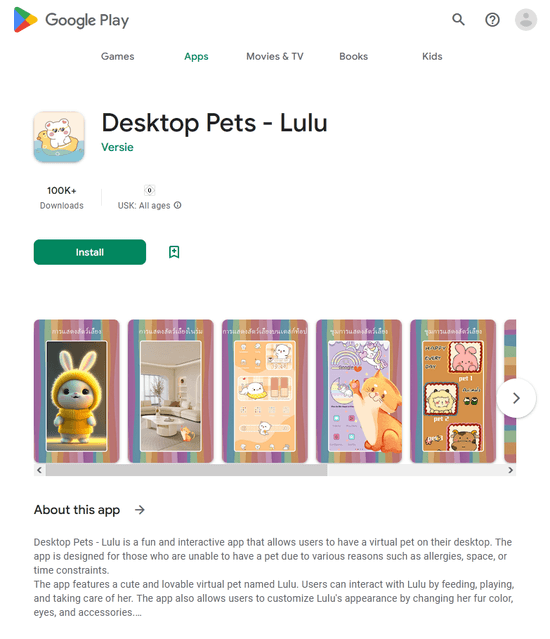 Another subscription malware was from the Android.Joker trojan family and was added to the Dr.Web virus base as Android.Joker.2170, Android.Joker.2171, and Android.Joker.2176. The first one was built into the Cool Charging Animation program, which is designed to display battery-charging information on the lock screen. The second one was hidden in the Smart Counter app which provides notebook functionality for users to record their activity and track good or not-so-good habits. The last one was distributed under the guise of an image collection app called 4K HD Wallpaper, which can be used to change the home screen background on Android devices.

To protect your Android device from malware and unwanted programs, we recommend installing Dr.Web anti-virus products for Android.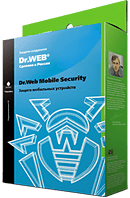 Your Android needs protection.
Use Dr.Web
The first Russian anti-virus for Android
Over 140 million downloads—just from Google Play
Available free of charge for users of Dr.Web home products