March 31, 2022
In February, the Android.Spy.4498 trojan was once again the leader among the threats detected on Android devices. The trojan is designed to steal information from other apps' notifications. This malware accounted for 47.83% of Dr.Web for Android anti-virus products detections. That is almost two times more compared to the previous month. At the same time, adware trojans remain highly active, with the Android.HiddenAds.3018 being the most widespread modification.
All sorts of fake apps from the Android.FakeApp family that cybercriminals use in various scam schemes were among the threads discovered on Google Play. Our specialists also uncovered several multifunctional trojans from the Android.Triada family, and another malicious app from the Android.Subscription family. The latter subscribes victims to paid mobile services.
PRINCIPAL TRENDS IN JANUARY
The Android.Spy.4498 trojan remains the leader among the threats detected on protected Android devices
Adware trojans is still an active threat
The appearance of new threats on Google Play
According to statistics collected by Dr.Web for Android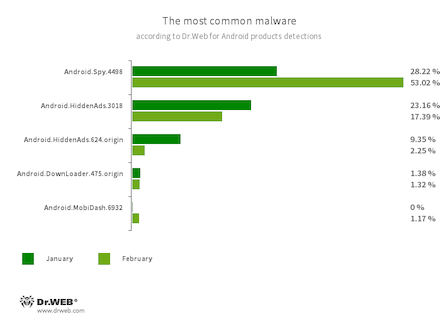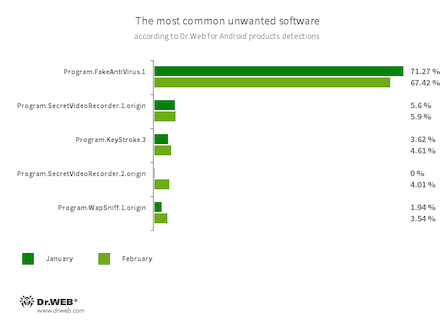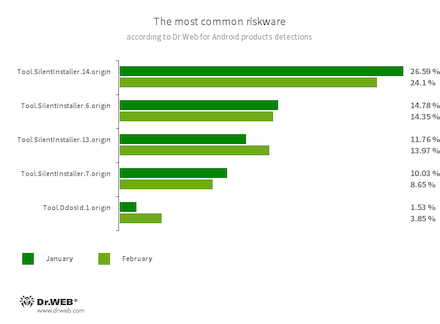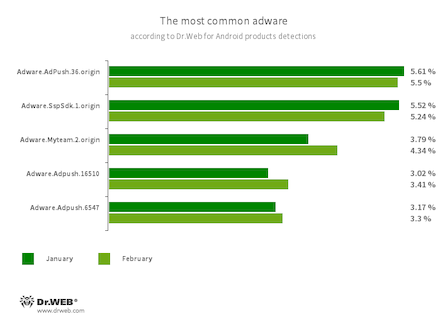 Program modules incorporated into Android applications. These are designed to display obnoxious ads on Android devices. Depending on their family and modifications, they can display full-screen ads and block other apps' windows, show various notifications, create shortcuts, and load websites.
Threats on Google Play
Throughout February, Doctor Web's specialists discovered more fake apps on Google Play. Malicious actors use these in various fraudulent schemes. Some of them, like the Android.FakeApp.895 ("Выплаты Gaz"), Android.FakeApp.896 ("Gasprom Инвестиции"), and Android.FakeApp.897 ("Gaz Investr"), spread under the guise of software that could be used to invest into oil and natural gas projects. Another trojan, Android.FakeApp.781, hid in the app called "Вернуть налог на карту". This app could allegedly help users to receive monetary compensations, like tax refunds. All these trojans loaded fraudulent websites through which scammers tried to steal personal information and money from potential victims.
In addition, Android.Triada.5186, Android.Triada.5241, and Android.Triada.5242 multifunctional trojans have been found in apps and games like "Flying Knife Master-Throw Hit", "Powerful Multi Space-2Accounts", "Space Flight Battle", and "Idle Soldier-Battle Royale.io".
Our malware analysts have also uncovered an Android.Subscription.7 trojan app. It loaded affiliate programs' websites to subscribe victims to paid mobile services. It was spread as an image editing software called "Funky Photo".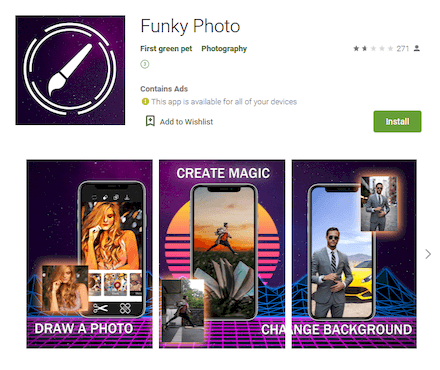 To protect your Android device from malware and unwanted programs, we recommend installing Dr.Web for Android.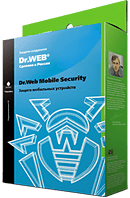 Your Android needs protection.
Use Dr.Web
The first Russian anti-virus for Android
Over 140 million downloads—just from Google Play
Available free of charge for users of Dr.Web home products