November 29, 2021
According to October statistics collected by Dr.Web for Android antivirus products, adware trojans and malware that download other software and execute arbitrary code remain among most common threats for users.
Last month, our specialists discovered more malware spread on Google Play. Among those were trojans that subscribe victims to premium services, malware that steals Facebook accounts' logins and passwords, and trojans that use Android devices as proxy servers.
PRINCIPAL TRENDS IN OCTOBER
The activity of adware trojans and malware that download other software
The emergence of new malware on Google Play
According to statistics collected by Dr.Web for Android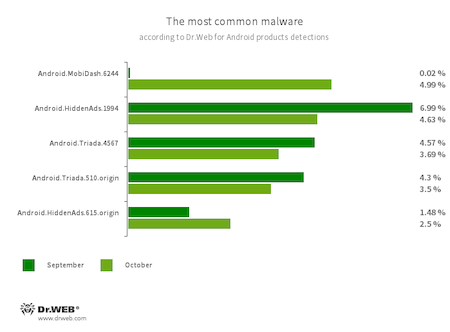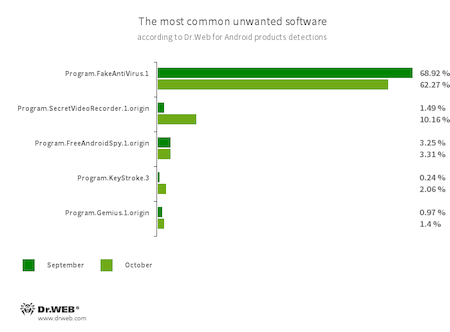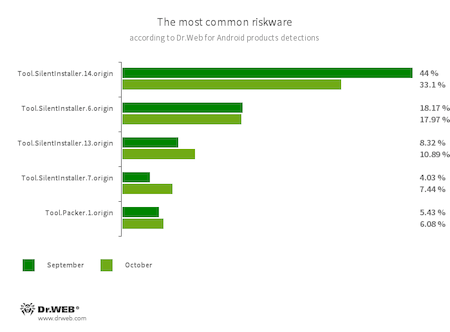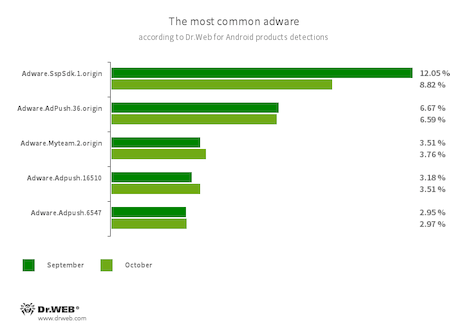 Program modules incorporated into Android applications and designed to display obnoxious ads on Android devices. Depending on their family and modifications, they can display full-screen ads and block other apps' windows, show various notifications, create shortcuts, and load websites.
Threats on Google Play
Among the threats discovered on Google Play, we found more trojans designed to steal Facebook logins and passwords. They spread as useful apps, such as photo and video editing software (like "Pix Photo Motion Edit 2021", "Collage Maker — Mirror Effect Editor", and "Video Maker with Music"), or VPN clients (like "Kangaroo VPN", "S-VPN Proxy", and "Lightning VPN"). The trojans were added to the Dr.Web virus base as Android.PWS.Facebook.38, Android.PWS.Facebook.40, Android.PWS.Facebook.41, Android.PWS.Facebook.59, Android.PWS.Facebook.64, and Android.PWS.Facebook.67.
Moreover, Doctor Web's malware analysts discovered new modifications of dangerous Android.Joker trojans. They subscribe users to paid mobile services and download and execute arbitrary code. These were dubbed Android.Joker.1012 and Android.Joker.1017. The trojans spread as applications that notify users of incoming calls and messages, like "Color Call Flash Alert" and "Call Apply Flasher".
Additionally, our specialists uncovered Android.Proxy.29 and Android.Proxy.41.origin malware spread as apps that tune and improve Android devices' performance, called "Mobile Battery Saver" and "Optimizer". In reality, these were trojans that turned infected devices into proxy servers to redirect perpetrators' network traffic.
To protect your Android device from malware and unwanted programs, we recommend installing Dr.Web for Android.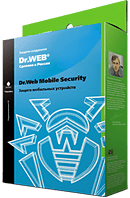 Your Android needs protection.
Use Dr.Web
The first Russian anti-virus for Android
Over 140 million downloads—just from Google Play
Available free of charge for users of Dr.Web home products