May 22, 2020
In April, the number of threats detected on Android devices increased by 16.46% compared to March. The number of observed malware increased by 16.13%, unwanted applications by 28.37%, riskware by 20.83%, and adware by 17.43%.
Last month, Doctor Web specialists found several threats on Google Play. New modifications of the dangerous Android.Circle malware family trojans executing attackers' commands were among them. Moreover, the Android.HiddenAds.2124 adware trojan and Android.Joker.164 trojan, which subscribed users to premium mobile services and could execute arbitrary code, were found as well.
PRINCIPAL TRENDS IN APRIL
The increased number of the threats detected on Android devices
The appearance of the new malware on Google Play
According to statistics collected by Dr.Web for Android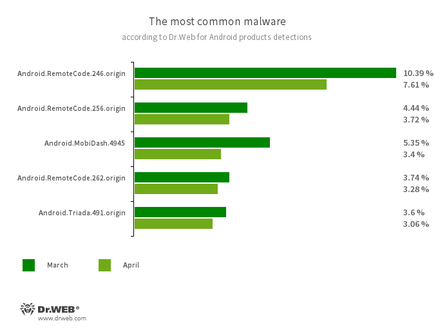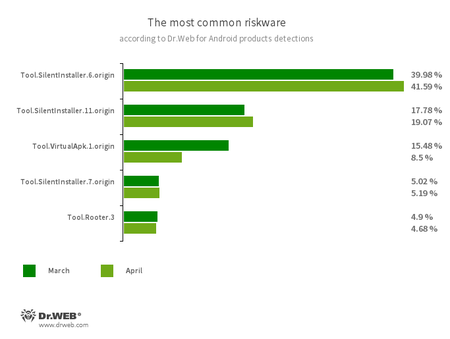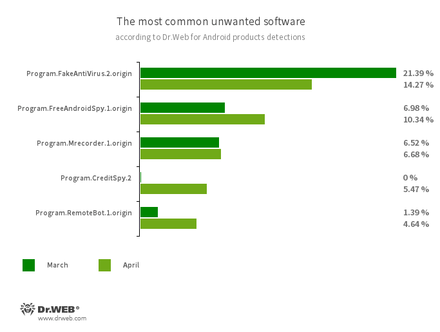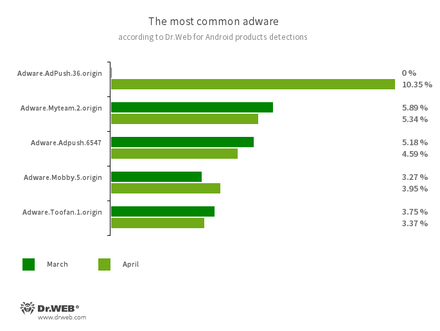 Program modules incorporated into Android applications and designed to display obnoxious ads on Android devices. Depending on their family and modifications, they can display full screen ads blocking other apps' windows, show various notifications, create shortcuts and load websites.
Threats on Google Play
In April, Doctor Web virus analysts discovered several malicious apps on Google Play. New modifications of the Android.Circle trojan family, such as Android.Circle.1.origin, Android.Circle.8 and Android.Circle.14, were among them. They were spread as benign software such as image editing software and sport related apps. Trojans of this family execute scripts with tasks using the built-in open source library, BeanShell. Upon the attackers' command they can display ads and perform other actions.
Along with these malicious apps, the Android.HiddenAds.2124 and Android.Joker.164 trojans were discovered as well. The former was built into the music application and showed obnoxious ads while the latter executed arbitrary code and could subscribe users to premium services. It was spread as picture editing software.
To protect your Android device from malware and unwanted programs, we recommend installing Dr.Web for Android.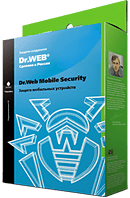 Your Android needs protection.
Use Dr.Web
The first Russian anti-virus for Android
Over 140 million downloads—just from Google Play
Available free of charge for users of Dr.Web home products