May 27, 2022
In April, the activity of Android.Spy.4498 trojan continued to decrease. This malware hijacks information from other apps' notifications. In addition, the activity adware trojans has slightly decreased as well, although these trojans remain among the most widespread Android threats.
Over the month, Doctor Web's specialists uncovered new malware on Google Play. Android.FakeApp fraudulent apps and Android.Joker trojans, which subscribe victims to paid services, were among them.
PRINCIPAL TRENDS IN APRIL
Decreased activity of the Android.Spy.4498 trojan
Decreased activity among adware trojans
The appearance of new malicious programs on Google Play
According to statistics collected by Dr.Web for Android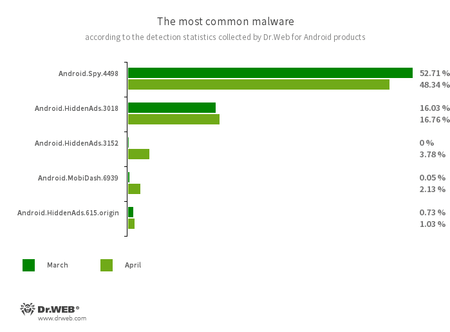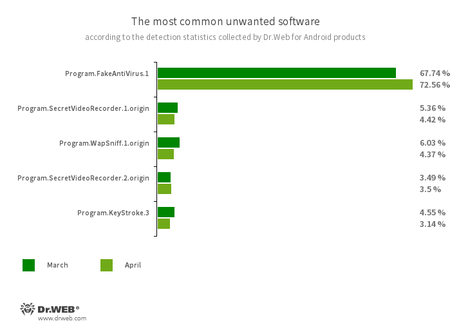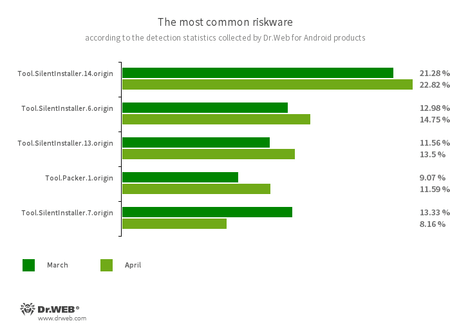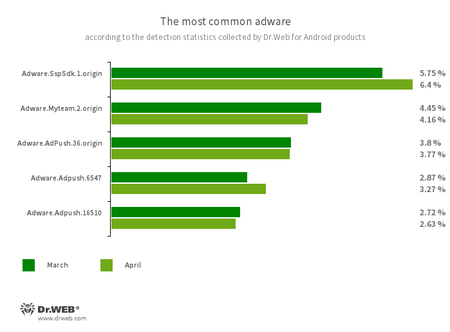 Program modules incorporated into Android applications. These are designed to display obnoxious ads on Android devices. Depending on their family and modifications, they can display full-screen ads and block other apps' windows, show various notifications, create shortcuts, and load websites.
Threats on Google Play
Last month, Doctor Web's malware analysts discovered yet other malicious apps on Google Play. Trojans from the Android.Joker family, capable of loading and executing arbitrary code and subscribing users to paid mobile services, were among them. One of these trojans hid in the live wallpaper app "Purple Live Wallpaper". Another one was disguised as a "QR Code Reader" app designed to scan bar codes. They were added to the Dr.Web virus database as Android.Joker.1381 and Android.Joker.1383, respectively.
Moreover, our specialists uncovered new trojans from the Android.FakeApp family, which were dubbed Android.FakeApp.930, Android.FakeApp.931, and Android.FakeApp.933. Malicious actors have spread these as software that allegedly could help Russian users search for information on social benefits and monetary compensation and immediately receive money due to them. The trojans hid in the apps "Как получить компенсацию от РФ", "Пособия для граждан 2022", and "Выплаты ФРСП".
In reality, these fakes loaded fraudulent sites which cybercriminals used to trick potential victims in order to steal their personal information and money.
To protect your Android device from malware and unwanted programs, we recommend installing Dr.Web anti-virus products for Android.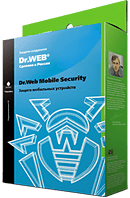 Your Android needs protection.
Use Dr.Web
The first Russian anti-virus for Android
Over 140 million downloads—just from Google Play
Available free of charge for users of Dr.Web home products