April 5, 2016
Russian anti-virus company Doctor Web has released version 11 of its Dr.Web for OS X. The product incorporates upgrades that meet present-day security standards, making Macs more secure, and improve the application's usability.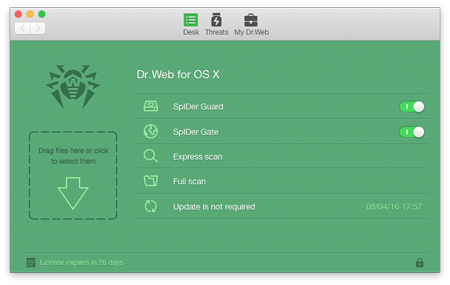 The anti-virus now supports Mac OS X El Capitan (10.11) and boasts a faster scanning speed.
The application has been made compatible with Adguard and recognizes SNI headers, which makes the thematic blacklist more effective.
Dr.Web 11.0 for OS X can also switch to mobile mode automatically—if the application is connected to a centralised protection server and the corresponding option is enabled.
An issue involving a 1Password plugin for Safari has been resolved.
Dr.Web for OS X is included in licenses for Dr.Web Security Space and Dr.Web Anti-virus.
To upgrade to version 11.0, users will need to download a new distribution.
Please note that users who purchase the product can enjoy free use of Dr.Web for Android, BlackBerry, Symbian OS, and Windows Mobile.
Tell us what you think
To ask Doctor Web's site administration about a news item, enter @admin at the beginning of your comment. If your question is for the author of one of the comments, put @ before their names.
Other comments