July 2. 2015
Russian anti-virus company Doctor Web has released its latest product Dr.Web Security Space for Android which is designed to protect all Android devices—including Android TV-powered televisions, media players, and consoles—from potential threats. With the advent of the Internet of Things (IoT) era, it's not only PCs and smart phones that are at risk of getting infected and, therefore, require anti-virus protection. The new application supersedes the product Dr.Web for Android which provides comprehensive protection.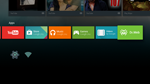 The first "global" anti-virus for Android, which paved the way for Dr.Web IoT Security Suite, is powered by Dr.Web for Android and incorporates all the advantages of this popular anti-virus. Meanwhile, Dr.Web for Android downloads on Google Play alone are approaching 100 million.
The new product protects not only smart phones and tablets, but also all other Android devices that are at risk of infection. For example, TVs and game consoles running Android connect to the Internet and also enable users to install software from third-party sources, including removable media, which can lead to infections involving Trojans and potentially dangerous programs. Dr.Web Security Space for Android detects and neutralises malicious objects that may get into a system along with downloaded files or as the result of the installation of downloaded applications. If a device powered by Android TV supports remote control, then a remote can also be used to control Dr.Web.
Dr.Web Security Space for Android can be downloaded from Google Play or from the Doctor Web site. Similarly to its predecessor Dr.Web for Android, the new product is available free of charge to Dr.Web Security Space and Dr.Web Anti-virus license owners. If you use the comprehensive protection product Dr.Web for Android, you can upgrade to Dr.Web Security Space for Android free of charge.
Doctor Web welcomes all owners of various Android devices to use the smart anti-virus—Dr.Web!
Tell us what you think
To ask Doctor Web's site administration about a news item, enter @admin at the beginning of your comment. If your question is for the author of one of the comments, put @ before their names.
Other comments