April 2, 2014
Russian anti-virus company Doctor Web is pleased to announce the release of Dr.Web 9.01.0 for Android. This product includes a new component―a firewall: users can improve the security of their mobile devices by blocking unwanted Internet traffic. This easy-to-use product is flexibly configured and doesn't require any special knowledge. The firewall is compatible with Android OS 4.0 and higher.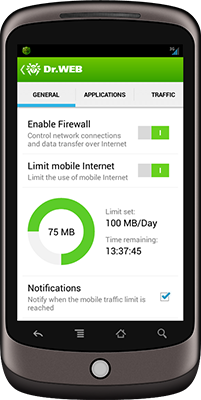 The firewall controls application network activity. This module filters the external network traffic of both the applications installed on the device and system applications. Users can enable or disable Wi-Fi or cellular network (3G, 4G, and GPRS) connexions, including roaming. Users can also customize the filtering rules (by IP addresses and/or ports, and by entire networks or IP ranges). Each application should be configured separately.
Cellular network traffic can be blocked once a certain usage limit has been reached; this is a useful feature for users whose cell phone plans have monthly allowances.
The firewall monitors current and transmitted traffic, offering information on the addresses/ports to which applications are connecting and on the amount of inbound and outbound traffic. It also provides detailed logs on device network activity. The information can be sorted according to a wide range of parameters.
Please note: the firewall included in Dr.Web for Android is compatible with Android OS 4.0 or higher.
Customers who purchase Dr.Web products for home can protect their mobile devices free of charge. The fact that 55 million devices around the world are protected by Dr.Web for Android proves that such protection is in demand.
Dr.Web 9.01.0 for Android is available on Google play (Dr.Web for Android. Comprehensive protection, Dr.Web for Android. Life License) and on Doctor Web's site.
Dr.Web for Android will be updated automatically. If automatic updates are disabled on the device, go to Google Play, choose Dr.Web Anti-virus or Dr.Web Anti-Virus Life license on the application list, and click "Update".
To update via the Doctor Web site, you need to download a new distribution file. If the option "New application version" is enabled, a new version notification will be displayed when updating the virus databases. You can start the download directly from this dialogue box.
Tell us what you think
To ask Doctor Web's site administration about a news item, enter @admin at the beginning of your comment. If your question is for the author of one of the comments, put @ before their names.
Other comments