December 9, 2013
Doctor Web's virus analysts regularly analyse statistics they receive from users of Dr.Web for Android. In November, the Dr.Web anti-virus scanner was launched around 20.5 million times on Android devices and detected 3.2 million threats. Dr.Web was discovering 300,000 malicious programs for this mobile platform on a daily basis.
According to the statistics acquired by Doctor Web's analysts, November 2013 saw 8,095,350 threat detections by the anti-virus monitor which is 3,745.021 incidents less than the previous month figure. This unusual declines may be due to seasonal fluctuations in distribution of malware. Users started on-demand scanning on their devices 20,443,096 times, and the scanner discovered 3,226,243 malicious and undesired applications for Android which is 1,250,194 incidents less than in October.
On average,Dr.Web scanner for Android revealed about 120,000 mobile threats daily—the maximum was reached on November 15 (141 294), and the smallest figure was registered on November 25, 2013 (110,740).
Frequency of threat detection by Dr.Web for Android scanner in November 2013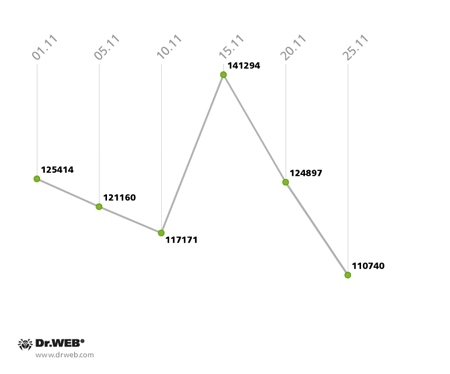 With Dr.Web for Android anti-virus monitor, an average of about 300,000 mobile threats are detected and neutralized on a daily basis—the peak in activity of malicious and unwanted programs was registered on November 1, 2013 (412,395 positives by the anti-virus monitor), while November 26 saw it at its lowest (253 832 detections). These figures are illustrated in the graph below.
Frequency of threat detection by Dr.Web for Android file monitor in November 2013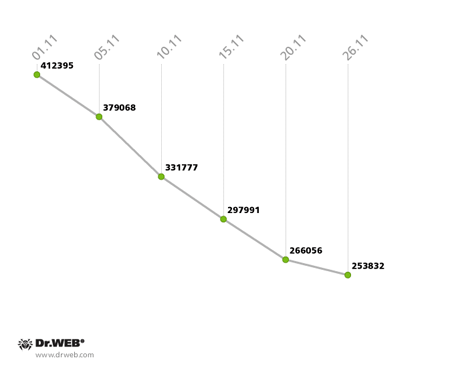 As the graphs suggest, mobile threats still pose a serious threat to today's portable devices. Android.SmsBot, Android.Wondertek, Android.Spy and Android.SmsSend are currently the most common Trojan families Entries for several new versions of malware from the families Android.Spy, Android.SmsSpy and Android.Tempur designed to intercept SMS messages and other personal information were added to the Dr.Web virus database. In the last month, Chinese users weren't left unattended by cybercriminals either. In November Doctor Web's analysts found a new representative of the famous family of malware Android.SmsSend which was added to the virus database as Android.SmsSend.946.origin. The Trojan spread various Chinese websites providing access to software for Android.
Users are advised to install Dr.Web for Android onto their smartphones and tablets to protect them from malicious programs. Doctor Web's analysts continue to monitor the situation regarding threats to Android.
Tell us what you think
To ask Doctor Web's site administration about a news item, enter @admin at the beginning of your comment. If your question is for the author of one of the comments, put @ before their names.
Other comments