May 27, 2013
Doctor Web is pleased to present new services for customers who use Dr.Web Security Space and Dr.Web Anti-virus. Now, in My Dr.Web Portal, you can get information about all your licenses; you can also find all the messages concerning the registration of your serial number, its renewal and more. Try it now!
These new services will make My Dr.Web easier to use. In the Licenses tab, you can find all the information about your current and expired licenses and check on their status and, if necessary, you can immediately arrange to renew or extend a license. You confirm your license ownership via e-mail or by submitting the serial number of your previous Dr.Web license.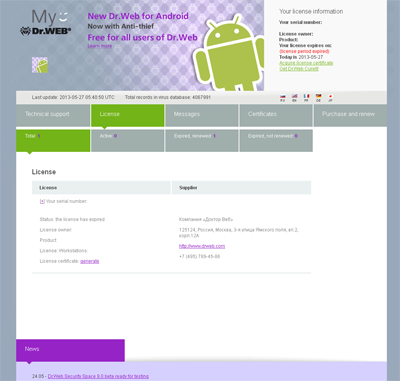 Another new section—Messages—is a repository of all Doctor Web e-mails sent to the customer regarding their Dr.Web licenses (license registration, renewal, expiration, etc.). Now you will never lose any important messages. Messages are stored through the entire license term and for 40 days after its expiry. Messages contain all the information about the client's supplier (through whom the license can be renewed) and a renewal and extension price.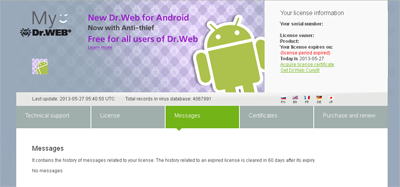 Reliable Dr.Web protection has become even more accessible!
Tell us what you think
To ask Doctor Web's site administration about a news item, enter @admin at the beginning of your comment. If your question is for the author of one of the comments, put @ before their names.
Other comments