February 13, 2013
Russian anti-virus company Doctor Web is warning users about a new online fraud scheme that became particularly popular in late 2012. Scammers posing as foreigners of Russian descent offer women expensive gifts (tablets, smart phones or jewellery). To deliver the gifts the scammers ask their victims to pay delivery costs via a private courier service's bogus website.
The growing number of scam victims indicates that the scheme is gaining popularity among criminals. The scam works as follows: criminals register on various dating sites and search for single women. They typically portray themselves as emigrants or those of Russian descent which explains their good command of Russian. The scammer wins the victim's confidence and then tells her that they intend to send their "sweetheart" a precious gift: a tablet, smart phone, or jewellery. However, because of the gift's great value, the sender will not risk sending it by regular post but instead prefers to use a private courier service.
Eventually the potential victim gets an email with a link to the shipping company's site and a login and password to access the My Account area. After successful authorization the woman is displayed a web page showing information about the postal item number, package weight and the recipient's name. But at this point a juicy detail is revealed: the sender did not pay for the parcel to be delivered to the recipient. Scammers ask their victims to pay an amount that can reach several hundred dollars. Naturally, soon after payment is made, the courier service and the generous suitor vanish.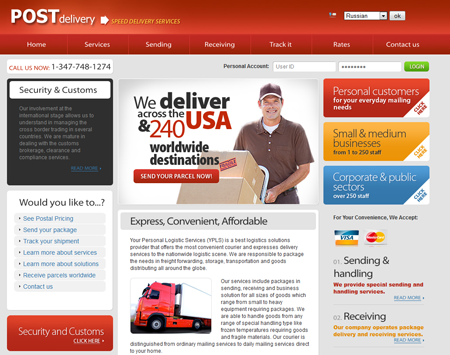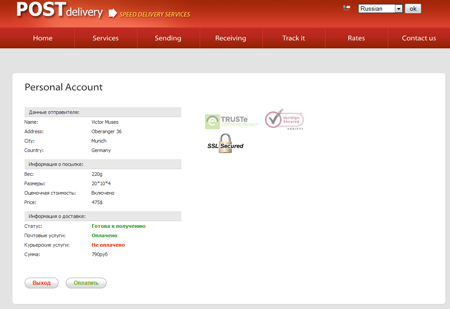 There is also a more sophisticated version of the same scam. A scammer poses as an American officer serving in Afghanistan, Syria or another zone of conflict. Criminals often use names and photos of real U.S. servicemen they find on the web, typically, at social networking sites. After a short period of romantic correspondence and even phone calls, the ardent admirer informs his beloved that he will be taking leave or will be discharged shortly. Another good piece of news is that while in action, the officer obtained certain items of value such as jewellery and antiques and is eager to ship them to his sweetheart. He intends to send the valuable parcel in a diplomatic pouch which is not subject to customs declaration and inspection or with a friend, an employee of an international organisation. But the only hitch is that to take this wealth out of the country, he needs to pay a middle man. It's not much — a couple thousand dollars. Another trick to lure a victim into giving away their money is to inform them that the parcel has been detained at customs in a distant country and that they need to pay a "bribe" to make sure it reaches the recipient.
Doctor Web urges users to exercise caution when dating online and to never pay for shipping any kinds of gifts or parcels. If for some reason you have become a victim of such a scam, contact your local police immediately.
Tell us what you think
To ask Doctor Web's site administration about a news item, enter @admin at the beginning of your comment. If your question is for the author of one of the comments, put @ before their names.
Other comments