August 30, 2011
Doctor Web, the leader of Russia's Internet anti-virus security services, announces the deployment of the Dr.Web AV-Desk Internet security service by Aflex cloud, a Software-as-a-Service distributor of Doctor Web software products. Now, at cloudpants.ru, corporate customers and home users can quickly sign up for one of the Dr.Web Anti-virus service subscription packages. Now, at Cloudpants.ru, corporate customers and home users can quickly sign up for one of the Dr.Web Anti-virus service subscription packages.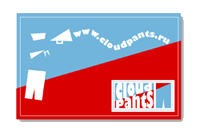 To get licensed anti-virus protection from Doctor Web, Aflex cloud customers can just activate a subscription in their Personal Area at Cloudpants.ru, download and run the Dr.Web distribution file, and then all the rest will happen automatically. The service is paid for in the form of monthly micropayments, and the user can, at any time, suspend a subscription or switch to another subscription package.
Four subscription packages are available to subscribers. With Dr.Web Classic, users will have basic protection against viruses and other malicious programs. Dr.Web Standard will provide them with anti-spam, while Dr.Web Premium includes, among other things, an HTTP monitor and a parental control module. The Dr.Web Premium Server subscription package is designed for comprehensive protection of Microsoft Windows Server 2003/2008 platforms.
As for the benefits of Dr.Web AV-Desk, Aflex cloud specialists noted the ease with which the Internet service was deployed, its quick commercial launch, as well as the availability of skilled technical support from Doctor Web, both for the service provider and end users.
"Providing anti-virus software on a subscription basis is among Aflex cloud's key activities. The deployment of Dr.Web AV-Desk was part of the company's broader portfolio of innovative and popular services on the market", said Artyom Khazov, Aflex cloud CEO. — "We are confident that our customers will appreciate the wide choice of Dr.Web Anti-virus subscription packages, their cost-effectiveness, as well as the convenience and flexibility of the subscription format".
About the Dr.Web AV-Desk Internet Service
Doctor Web was the first anti-virus vendor to offer an anti-virus as a service on the Russian market.
The deployment of Dr.Web AV-Desk lets a service provider's subscribers use the Dr.Web Anti-virus as a service: they can choose how long they want to subscribe, renew their subscriptions automatically, and that means, they can decide for themselves how much they want to spend on anti-virus security. Providing an anti-virus as a service ensures its instant delivery and easy subscription management for home and business customers. The Dr.Web AV-Desk Internet service was created by Doctor Web in 2007. Today, the number of service providers delivering the Dr.Web AV-Desk service in different regions of Russia and in the Ukraine, France, Spain, Germany, Austria, Netherlands, Mongolia, Kazakhstan, Kyrgyzstan, Bulgaria and Estonia exceeds 350. Following results shown by the service in 2007, Dr.Web AV-Desk was named "best product offered as a service" by PC Magazine Russia. In September 2008, Dr.Web AV-Desk was awarded the Grand Gold Medal for "most original scientific and technical solution in communications technology" at the ITE Siberian Fair.
www.av-desk.com
drweb.com/saas
About Aflex cloud
Aflex cloud is a software provider that uses the Software-as-a-Service (SaaS) delivery model. Founded in 2010, the company has now entered into partnership contracts with an array of vendors. Subscriptions to the software are made through Cloudpants.ru, the company-owned Internet service.
Tell us what you think
To ask Doctor Web's site administration about a news item, enter @admin at the beginning of your comment. If your question is for the author of one of the comments, put @ before their names.
Other comments