August 28, 2023
Doctor Web took part in the cybersecurity summit and international anti-virus conference in Tianjin, China. Igor Zdobnov, anti-virus laboratory chief, represented the company at the event.
His report "Walking in a zoo of Android malware development language" revealed how Android trojans have become increasingly complex as a result of the wide use of various programming languages. He also spoke in detail about the tools that can benefit security researchers when examining Android malware samples written in specific languages.
As malware makers now utilise a diverse set of programming languages to implement more powerful features and more complex trojan designs, a greater in-depth examination involving sophisticated analysis techniques is required to tackle emerging threats. In his report, Igor Zdobnov emphasised that this is Doctor Web's major priority in its commitment to developing security tools and technologies that protect users from these new and complex threats.
Doctor Web expects that the event in Tianjin will open up new opportunities for fruitful cooperation between cybersecurity experts across the globe and help deliver reliable anti-virus protection to end users in an era of increasingly complex cyberthreats.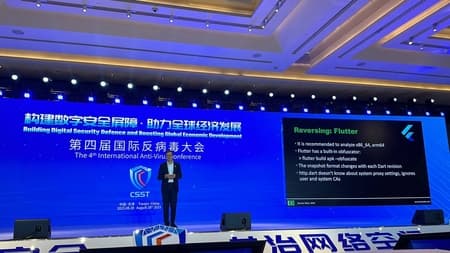 Tell us what you think
To ask Doctor Web's site administration about a news item, enter @admin at the beginning of your comment. If your question is for the author of one of the comments, put @ before their names.
Other comments