November 28, 2022
Russian anti-virus company Doctor Web is launching a Cyber Monday promo, which will take place from November 28 through December 2. During this period, customers will be offered a discount of 50% off its comprehensive anti-virus security solution Dr.Web Security Space for 2PCs/2years.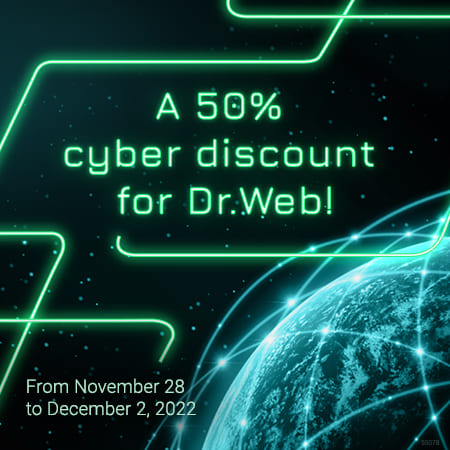 Take advantage of this special offer—even more so if you've missed the opportunity to get the discount before.
And here is what Dr.Web Security Space provides:
Reliable protection against all kinds of threats, including encryption ransomware—for Windows, macOS and Linux.
Danger-free web surfing and anti-spam.
The ability to control your children's Internet activity.
Throughout the promo period, you will be able to get all-round anti-virus security for 2 PCs/2years at half-price from our e-store and also keep 2 Android-powered devices protected from malware for 2 years as well.
Hurry to get your 50% discount for Dr.Web — you only have 5 days!
Tell us what you think
To ask Doctor Web's site administration about a news item, enter @admin at the beginning of your comment. If your question is for the author of one of the comments, put @ before their names.
Other comments