March 14, 2022
Russian anti-virus company Doctor Web has unveiled Dr.Web Security Space 12.8 beta for Android. Its key innovations include the updated firewall UI and the ability to use essential anti-virus security modules as soon as the application is installed—before the user purchases a license.
Numerous adjustments have been made to the firewall's UI to make it even more user-friendly.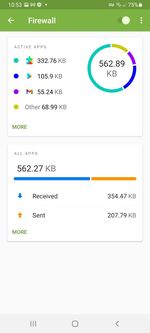 On top of that, the file monitor SpIDer Guard, as well as the Scanner and Security Auditor, are now available to users even before they activate their license (applicable for Dr.Web Security Space 12.8 for Android versions downloaded from Doctor Web's site as well as from Google Play and AppGallery). These modules become operational as soon as the user downloads the app and accepts its EULA terms.
Furthermore, the Call and SMS filter routines for blocking notifications about incoming unwanted messages have been upgraded.
You can download Dr.Web Security Space 12.8 beta for Android here.
Tell us what you think
To ask Doctor Web's site administration about a news item, enter @admin at the beginning of your comment. If your question is for the author of one of the comments, put @ before their names.
Other comments