October 5, 2021
Russian anti-virus company Doctor Web has updated a number of its Dr.Web products to bring high-quality anti-virus security to Windows 11.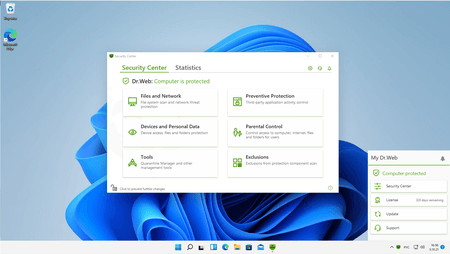 Doctor Web always does its best to keep up with the rapid evolution of information technologies and offers users state-of-the-art security solutions, providing all-round protection from all kinds of threats. True to our commitment, we rolled out the updated Dr.Web modules right on the Windows 11 release date, thus allowing users of this brand-new operating system to maintain anti-virus security at the highest level—at the Dr.Web level!
The modules have been updated in Dr.Web Security Space 12.0, Dr.Web Anti-virus 12.0, and Dr.Web Enterprise Security Suite 12.0 and 13.0, and also in Dr.Web AV-Desk 13.0's subscription-based Dr.Web Anti-virus software. The products' documentation has also been updated.
Please note that Dr.Web Anti-virus service subscribers need to find out from their respective service provider whether Windows 11 is supported under their subscriptions.
The update will be performed automatically; however, a system reboot will be required.