August 23, 2021
For the last week of summer, Doctor Web has decided to delight its users with a large discount on Dr.Web anti-virus protection—instantly for multiple devices. From August 23 till August 31, customers get a discount of up to 40% off when they purchase Dr.Web Security Space (PC protection) to protect 3 computers for 2 years.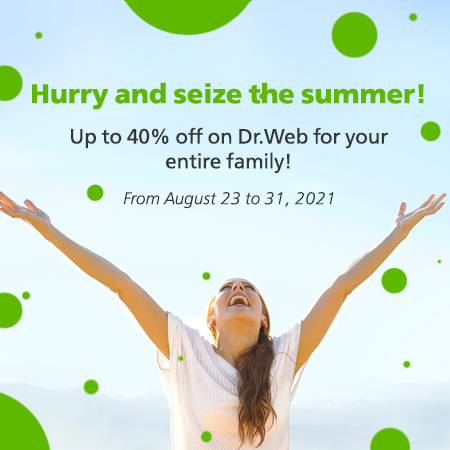 During the promotional period, the cost of the protection provided by the comprehensive Russian anti-virus Dr.Web will be 54.24 € (VAT included) instead of the usual 86.24 €.
Thus, together with 32 € savings, users will get the complete array of components needed to protect all of a family's devices—this includes Dr.Web Parental Control, which watches over the smallest of Internet surfers. And it's not only the 3 computers that will be staunchly protected from all Internet threats—3 Android devices will be too. And 2 of the 3 PCs and all the mobile gadgets will be protected free of charge. And if you take advantage of this special offer in order to renew your current Dr.Web license (one that is valid for at least 3 months), you will also be gifted 150 days of protection for free.
So while summer is coming to an end, the benefits of Dr.Web's protection are beginning—don't miss out on them!
Our promotional Dr.Web Security Space can only be purchased on a special page of our website. To get your discount, click on this button:
Tell us what you think
To ask Doctor Web's site administration about a news item, enter @admin at the beginning of your comment. If your question is for the author of one of the comments, put @ before their names.
Other comments