September 8, 2021
Doctor Web is pleased to present the newly released version 12 of its Dr.Web Light for Android. Users will discover the qualitative changes that have been made to the program's operation and the pleasant innovations that have been introduced to the application's design and structure, including the addition of a dark theme. See what's new!
We listen carefully to our users' opinions and that's why, in the new version of Dr.Web Light, we have significantly updated the design and added the option to switch to a dark theme. The application menu has become more structured and user-friendly, so now all the functions can easily be found. The notification bar and application widget have also been updated.
Of course, we did not limit ourselves to making just visual updates. In addition to the changes we made to the interface, in response to user requests, automatic file system scanning has been replaced with on-demand scanning—now Dr.Web Light will use even fewer resources. In the "Custom scan", users can now take advantage of convenient sorting for the list of files needing scanning, and detailed information about each event has been added to the "Statistics" section. In addition, the application now works better with Android 11.
МWe have already updated the documentation «Dr.Web Light User Guide», which now contains a detailed description of all the changes made to the new version—so you can use it at any time.
Users who downloaded Dr.Web Light from our site need to download the distribution again or update the application on Google Play.
If you downloaded the Dr.Web application from Google Play, the updates will be downloaded and installed automatically. If automatic updates are disabled on your device, you need to go to Google Play, choose Dr.Web Light on the application list, and click on "Update".
Note! We recommend that you use Dr.Web Security Space (for Android) to fully protect your system from all types of modern-day threats. It incorporates other components in addition to the anti-virus:
Parental Control will protect adults and children from Internet threats;
The Call and SMS Filter will shield against unwanted calls and SMS messages;
The Anti-theft will help locate a mobile device if it has been lost or stolen, and, if necessary, wipe confidential information from it remotely;
The Firewall will monitor application network activity and protect sensitive information from being leaked over a network;
The Security Auditor will inspect and analyse a mobile device's security and offer solutions to address security problems and vulnerabilities.
Dr.Web for Android has been downloaded more than 140 million times on Google Play alone! Every month, our specialists discover a multitude of malicious applications, add thousands of websites to the non-recommended list, analyse millions of files and links, and support our users 24/7.
Try Dr.Web and leave your feedback on Google Play.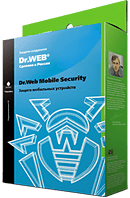 Your Android needs protection.
Use Dr.Web
The first Russian anti-virus for Android
Over 140 million downloads—just from Google Play
Available free of charge for users of Dr.Web home products
Tell us what you think
To ask Doctor Web's site administration about a news item, enter @admin at the beginning of your comment. If your question is for the author of one of the comments, put @ before their names.
Other comments