August 5, 2021
Russian anti-virus company Doctor Web is pleased to present DrWebBot for VK 1.0—an innovative tool for safer interaction in the social media network VKontakte. Similarly to Dr.Web for Telegram, this bot scans links and files in social media posts, comments and messages.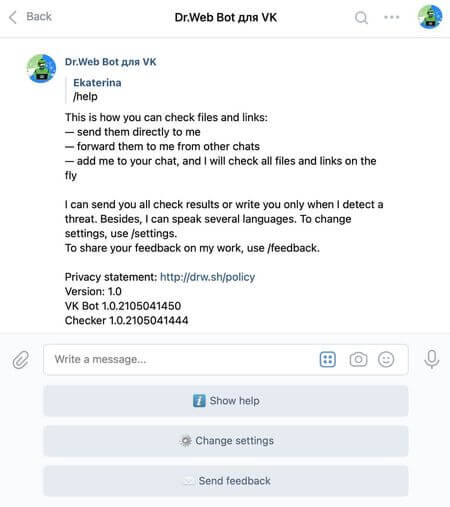 Users can interact with the bot either by forwarding their links and files to the bot with their personal messages or adding the bot to their conversations. If the second option is selected, the bot will examine the content in real time. Please note that the bot will require administrator permissions in your conversation in order to scan links.
Documents (archives, text files, ebooks, etc.), as well as links and attachments in comments and posts (documents, wiki pages and notes), are examined. Because on VKontakte all uploaded images are compressed to the JPEG format and no original images are saved, the images aren't scanned by the bot. The maximum allowed file size for scanning is 200 MB.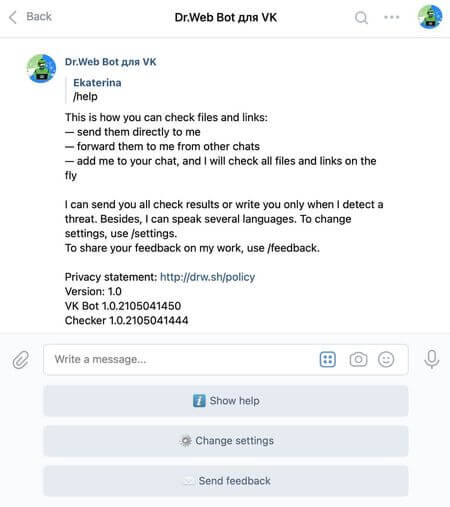 The bot makes use of Dr.Web Cloud and the virus databases to detect and neutralise brand-new threats that may lurk in social media messages.
You can configure the bot to report on the results of each scan or instruct it to only alert you when an actual threat is detected.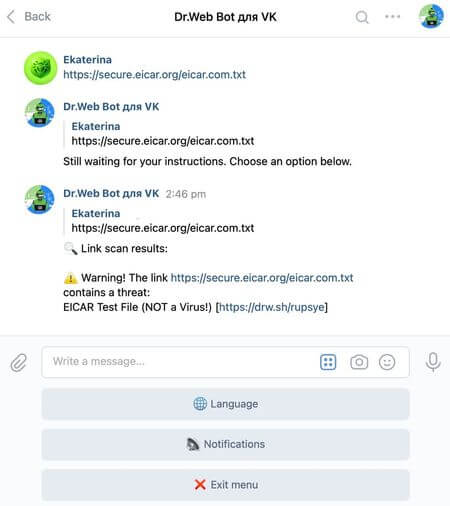 To start using DrWebBot for VK, open this link. To configure the bot, use the '/settings' command. Here you can also select the language for interacting with the bot and how the bot will notify you about scan results.
Please note that currently the bot can only communicate with users in two languages: English and Russian.
Tell us what you think
To ask Doctor Web's site administration about a news item, enter @admin at the beginning of your comment. If your question is for the author of one of the comments, put @ before their names.
Other comments