June 16, 2021
Russian anti-virus company Doctor Web has updated its interactive suspicious file analysis sandbox Dr.Web vxCube to version 1.5.10. The update delivers new features and improves the service's operation. The updated version allows users to take advantage of public reports and the option to add tags and comments for the files they analyse. Furthermore, API 1.0 is no longer supported.
Public reports
Thanks to public reports, users can now view all information about analysed files—no registration or license purchase is required. Just click on the Public reports link on the Dr.Web vxCube sign-in page.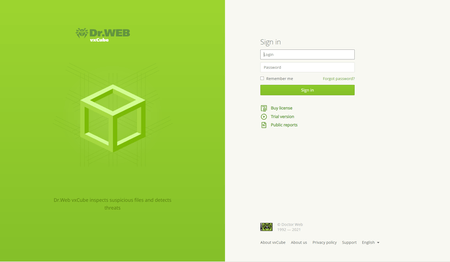 On the report page, you will see detailed file analysis information, which includes:
The object's behaviour details;
A process graph;
The analysed file's description;
Memory dumps;
An API log;
A network activity map.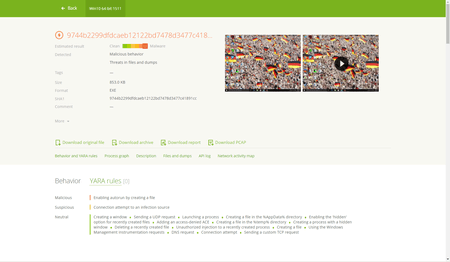 Tags and comments
Comments and tags can now be added for specific files. That way users can find the files they need more quickly and leave notes about the objects they have analysed.
To add a tag or a comment, open a report and click on the icon next to the Tags or Comments section.
To search for files by their tags or comments:
Open the Dr.Web vxCube main page.
Enter the relevant tags or comments in the search box.
Click the search icon.
API 1.0
API 1.0 is no longer supported. For more efficient interaction with Dr.Web vxCube, API 2.0 is now used.
You can find a detailed description of API 2.0 on the product's official page at GitHub.
Other changes
Now previously specified user-defined settings will be used if a task gets restarted;
The service's stability has been improved;
New hyperbox-service parameters have been added;
New NETWORK_DNS_BAD rule texts are now available;
Reports can now be identified using UUIDs;
APK file analysis reports now include the names of threats;
Additional minor tweaks and upgrades have also been introduced.
Dr.Web vxCube will be updated to version 1.5.10 on June 16 (Wednesday) between 5 p.m. and 8 p.m. GMT. The service will be unavailable during this period.
For price information and to purchase a license, fill out this short application.
To evaluate our interactive malware analysis service, take advantage of a 10-day trial. During this period you will be able to access all of Dr.Web vxCube's features to examine up to 10 files.
Tell us what you think
To ask Doctor Web's site administration about a news item, enter @admin at the beginning of your comment. If your question is for the author of one of the comments, put @ before their names.
Other comments