March 1, 2021
Russian anti-virus company Doctor Web is discontinuing its loyalty programme Dr.Web + Me for customers outside the Russian Federation. Effective March 1, 2021, users will no longer be able to acquire virtual award points under the programme. Meanwhile, Dr.Web + Me will be replaced by an even more attractive offer for loyal customers. In spite of the programme being shut down, users will still be able to exchange their accrued Dr.Webling points for discounts or gift certificates under the programme's terms until May 31, 2021.
Throughout this spring the opportunity will remain to convert your earned virtual awards into discounts and get a new license for Dr.Web Security Space (PC/Mac), Dr.Web Security Space for Mobile or Dr.Web KATANA — at 20%, 30%, or 50 % off.
We invite all Dr.Web community members who still have some Dr.Weblings to spend to take advantage of this opportunity. Bear in mind that the products on display in our eStore are never sold out! And don't forget: a Dr.Web license can be activated at any moment, no matter how long ago you purchased it.
As an important aside, you can use a standard Dr.Web Security Space license (PC/Mac) to renew your previous license and, by doing so, also have 150 bonus days added to your new license period as soon as you register the license. And, the anti-virus for Android-powered gadgets comes completely free with this license!
However, if for some reason you don't need to renew your license, you can help your loved ones keep their computers safe by gifting them a discount certificate. Let your Dr.Weblings work for those you hold dear.
Important! To exchange your Dr.Webling award points for discounts, you need to sign in under your account on Doctor Web's site. And remember: After May 31, all of your unspent Dr.Weblings will expire.
Thank you for choosing Dr.Web!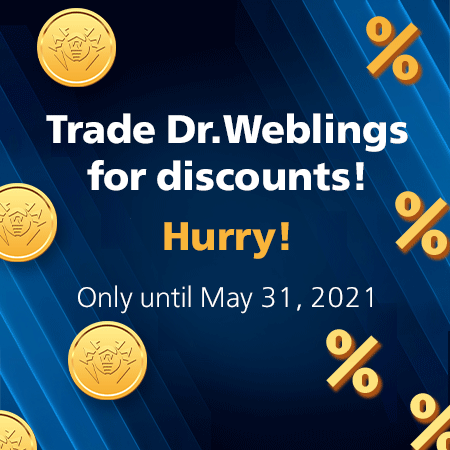 Tell us what you think
To ask Doctor Web's site administration about a news item, enter @admin at the beginning of your comment. If your question is for the author of one of the comments, put @ before their names.
Other comments