February 22, 2021
Doctor Web has great news for everyone seeking to protect their ever-increasing pool of devices from malware: from February 22-28, buy Dr.Web Security Space to protect 3 PCs/Macs for 1 year and pay just the 1 PC price—a 20 EUR saving.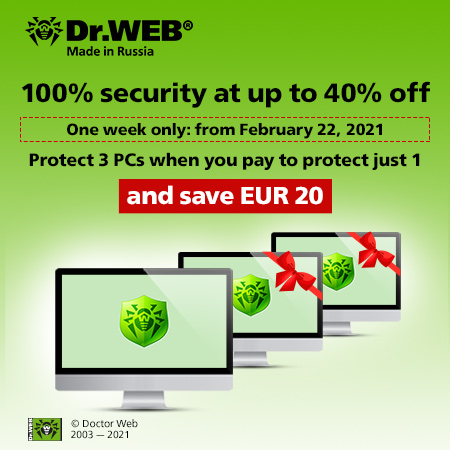 This is a golden opportunity to ensure that all the desktops, laptops and mobile devices in your family can operate safely. Or, if you are in the habit of using multiple devices, you can cash in on this offer too. But it doesn't end there! Because Dr.Web is also a great gift!
The standard one-year license price for 3 PCs is EUR 53.90, but only during this week, you can get all of Dr.Web's state-of-the-art security features at up to 40% off.
In addition to the 3 personal computers, 3 Android-powered devices will also enjoy reliable protection from all kinds of Internet threats, and 2 of the 3 PCs and all the gadgets will be protected free of charge. And if you choose to take advantage of this favourable moment to renew a Dr.Web license you already have (provided that its duration is three months or longer), you will also get an extra 150 days of protection completely for free.
Please note that you can only purchase Dr.Web Security Space on these favourable terms on the special promo page on Doctor Web's site. Don't miss this special offer:
Tell us what you think
To ask Doctor Web's site administration about a news item, enter @admin at the beginning of your comment. If your question is for the author of one of the comments, put @ before their names.
Other comments