June 23, 2020
Perhaps you are now working from home, have just purchased a new PC or a smart phone, or want to protect your loved ones' devices? With Dr.Web you can expand your license for free or at 40% off.
Find out how to extend Dr.Web protection to other devices on these generous terms.
As the digital world continues evolving rapidly, protecting multiple devices from malware is more important than ever. That said, we are pleased to remind you about our discounts and bonuses.
License expansion options for Dr.Web Security Space
Dr.Web users can expand their license coverage to protect up to 5 PCs at 40% off. If your license expires in less than three months, you have the option to increase the number of protected devices at no cost whatsoever.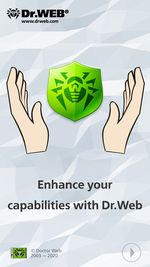 Expansion options for Dr.Web Premium subscriptions
Once you expand your subscription, lower fees are applied – much less than the cost of protecting a single PC. For example, if Dr. Web protection is expanded for up to 5 PCs, Dr.Web Premium subscribers get 30% off—only 0.055 EUR per day instead of 0.06 EUR for one device.
Dr.Web Anti-virus users and Dr.Web Classic service subscribers can expand their licenses and subscriptions and upgrade to Dr.Web Security Space and Dr.Web Premium at any time.
Expand your Dr. Web Anti-virus license or Dr.Web Classic subscription now to use new Dr.Web protection components throughout the remainder of your license period and protect your Android devices for free.
Tell us what you think
To ask Doctor Web's site administration about a news item, enter @admin at the beginning of your comment. If your question is for the author of one of the comments, put @ before their names.
Other comments