June 17, 2020
Russian anti-virus company Doctor Web is offering its users new informational materials in its "Bait" column. The company has been paying attention to the fact that the number of infected people with coronavirus is growing in tandem with the number of phishing mailings that are related to this epidemic (and not just to it). Read our illustrated story thoroughly—and don't drop your guard on the Internet.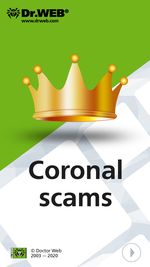 There is a category of people for whom the global disaster is a reason to get rich. Phishers who lure users with promises of "cures" and other barefaced lies belong to this category. Cybercriminals have a single aim—to steal someone's money regardless of their age, feelings, and level of prosperity.
Cybercriminals can be convincing—many users take the bait when they receive such emails. But Dr.Web cannot be so easily deceived: our anti-spam filter can detect fakes and prevent malicious spam from reaching recipients. The main thing is that Dr.Web must get between criminals and users in time.
Use Dr.Web's comprehensive protection, which includes the Anti-spam, to protect your Windows PCs and Android mobile devices, and stay calm and be healthy.
Tell us what you think
To ask Doctor Web's site administration about a news item, enter @admin at the beginning of your comment. If your question is for the author of one of the comments, put @ before their names.
Other comments