December 13, 2019
Russian anti-virus company Doctor Web has released Dr.Web Light 11.4.1 for Android. The update delivers new features.
New:
The ability to unlock devices running Dr.Web Security Space for Android using the new component Notifications from Friends;
A new notification channel added – "Notifications from Friends"; and
The ability to disable program scan notifications in the application settings added;
Support for 64-bit architecture added.
The update also delivers minor tweaks and improvements.
If you downloaded the Dr. Web application to devices running Android 4.4 and later from Google Play, the updates will be downloaded and installed automatically. If automatic updates are disabled on your device, you need to go to Google Play, choose Dr.Web Light on the application list, and tap "Update".
The users of devices running Android 4.0 - 4.3 will need to download the product from our website.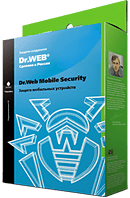 Your Android needs protection.
Use Dr.Web
The first Russian anti-virus for Android
Over 140 million downloads—just from Google Play
Available free of charge for users of Dr.Web home products
Tell us what you think
To ask Doctor Web's site administration about a news item, enter @admin at the beginning of your comment. If your question is for the author of one of the comments, put @ before their names.
Other comments