November 14, 2019
Russian anti-virus company Doctor Web has updated its Dr.Web vxCube, an emergency file analysis and malware neutralisation service, to version 1.04.10. The update resolves known software issues and delivers some UI tweaks.
Changes made to the analysis service:
The causes behind possible analysis and detection errors have been eliminated.
Analysis report formatting errors have been fixed.
Issues that could occur while a Dr.Web CureIt! build was being generated have been resolved.
To purchase a license, please contact our sales support service.
With a Dr.Web vxCube trial license, available here, you can examine 10 objects in 10 days.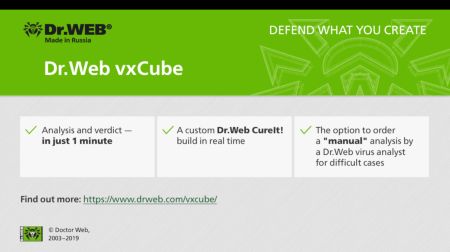 Tell us what you think
To ask Doctor Web's site administration about a news item, enter @admin at the beginning of your comment. If your question is for the author of one of the comments, put @ before their names.
Other comments