October 22, 2018
Doctor Web, the Russian developer of anti-virus software products under the brand name Dr.Web, is pleased to present its new, twelfth version of Dr.Web for Windows, which has two licensing options — Dr.Web Security Space and Dr.Web Anti-virus. They are designed to protect home users and companies that do not need centrally managed anti-virus software.
The latest threats won't get through
The new Dr.Web 12 version for Windows has:
a significantly expanded range of program features;
an expanded range of entities that can be protected by the anti-virus (processes, system services, drivers, the registry, Windows management instrumentation (WMI), system scheduler tasks, process network connections, and file system events);
new, advanced scanning techniques, including new non-signature methods for detecting threats and new behavioural algorithms;
heuristic algorithms with expanded detection capabilities;
enhanced behavioural detection routines that make Dr.Web for Windows incredibly powerful. In version 12 they work alongside the signature and cloud-based technologies, leveraging the anti-virus engine and Dr.Web Cloud to combat threats even more effectively. They can now detect an even broader spectrum of threats;
the ability to use a variety of sources to make a decision as to how harmful a file or process is in order to make a maximally reliable verdict.
Taken together, the improvements and innovations enable Dr.Web version 12 to detect even more threats, without having to constantly refer to the virus databases and without actually executing suspicious code. For users this means an additional reduced load on their protected devices.
The new philosophy of signature-based detection
In Dr.Web version 12 (and going forward!) all attempts by malware to execute code in a system or to start to engage in malicious activity are intercepted in a timely manner and scanned using a signature-based method. This method is used to the fullest in all scanning subsystems and components, as well as in Dr.Web Preventive Protection.
This results in an accelerated detection process—malware has no chance to even start working, let alone cause damage to a system.
Dr.Web's heuristic algorithms have incredible new capabilities
Heuristic algorithms have been radically redesigned to detect bodiless threats, which are increasing in number daily and whose detection is severely complicated due to their specific features.
Heuristic algorithms have been added to detect LOLBINs/LOLScripts (Living Off The Land Binaries And Scripts). Cybercriminals use trusted processes (those not scanned by anti-viruses) to execute them. Some estimates indicate that in 2017 this class accounted for more than half of all attacks.
The new Dr.Web version 12's heuristic algorithms also take aim at trends that are popular with virus writers: launching malicious miners and imbedding malware downloaders (both those that are active and those designed to be launched in all system areas).
A new stage in the development of Dr.Web cloud-based detection routines
Dr.Web version 12's upgraded Cloud now includes a number of new heuristic methods for detecting threats. In most cases, Dr.Web Cloud is used during the scanning process. The heuristic scanning of browser extensions is also implemented via Dr.Web Cloud—it determines the location of plug-in configuration files and analyses the configuration file of the scanned browser. And in contrast to what happens with many other present-day anti-viruses, no files are transmitted from a protected device to Doctor Web's servers.
Dr.Web Cloud is the key ingredient that makes version 12's protection so effective.
A step into the future to detect potential infections
Dr.Web version 12 is armed with information about a new class of incurable threats. Special heuristic algorithms are applied to those threats so that Dr.Web can assert with a high degree of confidence that a system is infected. For obvious reasons, we do not want to go into further detail here.
Upgraded anti-adware protection
Adware has gone from being pure advertising to being a cross between advertising and something malicious, where the malicious part is winning out: this includes substituting parameters in browsers, shortcuts, home pages, proxy, DNS; blocking anti-viruses and system applications (for example, regedit, taskmgr); and taking other actions.
Infecting a system via adware has become a favourite method of cybercriminals.
Dr.Web 12 for Windows has become more effective in neutralising malicious adware activity that cannot be detected with the help of signature-based analysis. Version 12 uses both heuristic and cloud-based detection routines to protect systems. And, what's especially important is that Dr.Web cures a system from these malicious modifications and blocking activities.
In addition to the technological innovations,
the new version of Dr.Web is simply... irresistible!
Let's take a look!
New!

Dr.Web Security Center

Easier and more intuitive—these are the words that can used to describe what it's like to manage the settings of the protection components and tools in the new Dr.Web 12 for Windows.
File and network protection
The key Dr.Web protection components are now aggregated in a single window.
Here users can access the settings of Dr.Web SpIDer Guard, the Scanner, the Firewall, SpIDer Mail, and the SpIDer Gate HTTP monitor—traditional, time-proven anti-virus protection components, which over the course of two-plus decades have been tested on millions of user computers worldwide.
Preventive protection
Dr.Web's array of Preventive Protection technologies is responsible for analysing the behaviour of running applications and all system processes. Thanks to them, Dr.Web
blocks malicious programs based solely on a description of their behaviour, without using signatures;
protects against the latest malicious programs that have been designed to bypass detection by traditional signature-based scanning and heuristic mechanisms;
protects against objects that have not yet been analysed by the anti-virus laboratory and, therefore, are unknown to Dr.Web at the moment of intrusion.
Dr.Web's Preventive Protection technologies allow our anti-virus to remain permanently up to date and relevant and to do the seemingly impossible: protect against threats that have already been created but are not yet known to our virus database, and this even includes protecting users against threats that criminals have yet to develop!
In the new Dr.Web for Windows 12, Dr.Web's Preventive Protection technologies can neutralise brand-new threats thanks to three modules that can be managed via a single Dr.Web Security Center tab.
Protection for personal data
Hackers try to extort money from users by encrypting their data, blackmailing them, shutting them out of their computers, and then stealing and selling their personal data. Our modules, which users can easily find in the Devices and Personal Data section, will prevent all those things from occurring.
New!

Data Loss Prevention

Many Dr.Web users have heard about encryption ransomware programs that corrupt user files and demand a ransom to restore the information. Because Trojan code often contains errors, even users who pay their blackmailers a ransom risk never seeing their photos and work documents again. Because encryption ransomware is so highly commonplace today, protecting oneself against it is vital.

And although the new Dr.Web protection component has the same name as in Dr.Web versions 9-11.5, the routine governing its operation is now completely different. This is indeed a new tool whose operation is no longer based on the periodic creation and protection of backup copies but on the non-stop resident protection of user-selected folders. Your files will remain under its protection until such time as you yourself disable it.

Data Loss Prevention needs to be turned on and configured.

! This component is not available under the Anti-virus license.

Find out more | Compare the protection components in Dr.Web Security Space and Dr.Web Anti-virus
New!

Protection against spying

Spying incidents—those involving cybercriminals carrying out attacks that let them gain access to microphones and cameras, make video and sound recordings, and then demand a ransom to keep the information attained private—are on the rise. And users cannot tell when their devices are being compromised (no light comes on) even if they've locked their screens.

Dr.Web 12 version for Windows will render such intrusions impossible. It will protect your privacy because it ensures that webcams and microphones cannot be used for surveillance purposes. So you no longer have to duct-tape you webcam ☺

A computer should serve its user rather than an invisible intruder.

! This component is not available under the Anti-virus license.

Compare Dr.Web Security Space and Dr.Web Anti-virus protection components.
Improved!

Parental Control

Modern technologies offer fraudsters tremendous opportunities to attack people who do not yet understand the importance of protecting their data. The Parental Control component in the new Dr.Web 12 for Windows will protect children against the kinds of threats that can impact them the most.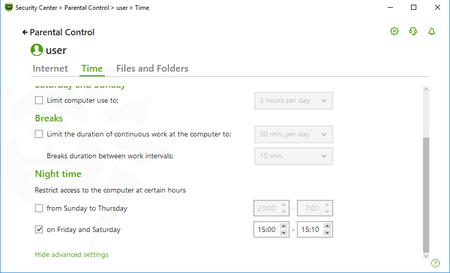 Parents/guardians can now indicate how much uninterrupted time children can spend on a computer and specify break times, which are very important for their well-being.
Users can now check how much computer time they have left if limits have been placed on their computer use. This way, they won't be surprised when their computer shuts down.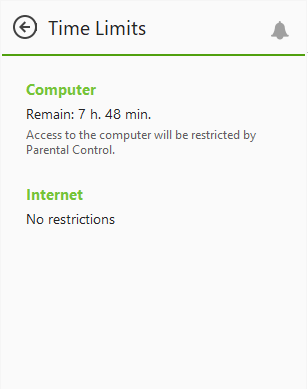 When going online, it's important to realise: all malware is created to commit crimes.
But no matter what kind of harm an attacker is attempting to do, Dr.Web provides sufficient protection for safe Internet surfing. Of course, that's only if you don't disable Dr.Web's protection components, even temporarily ☺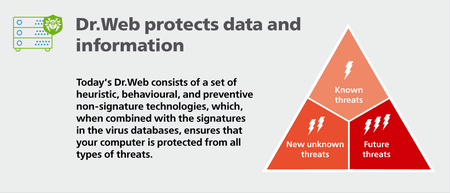 What does Dr.Web protect against?
Upgrade to the Dr.Web 12 version free of charge
To upgrade to Dr.Web for Windows 12, commercial and trial license users just have to download the distribution of the new version and install the program.
If you have a valid serial number or a trial key file,
download version 12
If you're just starting to get acquainted with Dr.Web,
get a 3-month trial
Attention, Dr.Web Anti-virus service users!
The date of release of version 12 for those who use the anti-virus on a subscription basis will be announced separately.
Tell us what you think
To ask Doctor Web's site administration about a news item, enter @admin at the beginning of your comment. If your question is for the author of one of the comments, put @ before their names.
Other comments