August 28, 2018
Russian anti-virus company Doctor Web is pleased to announce that it has started collaborating with a Japanese company Satsuki Co., Ltd., a manufacturer of interactive whiteboards for educational institutions and businesses.
With its Collabon interactive whiteboards, Satsuki brings an innovative approach to education based on state-of-the-art multimedia technologies. The Android-powered whiteboards require no connection to a PC and offer maximum flexibility and ease of use.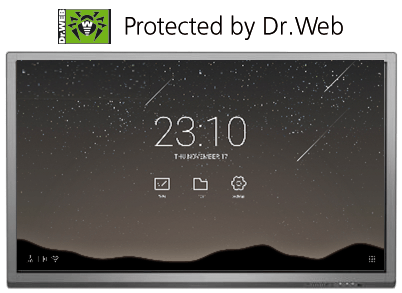 Satsuki makes customer care a top priority and realises that information security is an integral part of the progress being made in our digital era. With this in mind and anticipating future threats and challenges, Dr.Web Security Space for Android now comes preinstalled on its interactive whiteboards. This anti-virus software can detect and eliminate malware that may sneak onto devices not only from the Internet but also from removable media, which is widely used in education.
"Because Dr.Web Security Space for Android is one of the most reliable and successful anti-virus solutions for this platform currently on the market, having it preinstalled on our devices will set a new standard in interactive whiteboard security. Internet connectivity will appear among the devices' features pretty soon, and our customers will appreciate their ability to neutralise malware. We are committed to introducing this new security standard as expediently as possible to expand the market share of our whiteboards and promote their use in educational organisations", said Ichiro Sobue, President of Satsuki Co., Ltd.
Dr.Web Security Space for Android also features an effective and easy-to-use URL filter, which became another argument in favour of the product from Doctor Web. The filter can be used to block access to potentially dangerous sites and sites that are incompatible with organisational education policy.
Dr.Web Security Space for Android will come pre-installed on all interactive whiteboards produced by Satsuki Co., Ltd.
Doctor Web hopes that this step will give rise to prolonged and fruitful cooperation with Satsuki Co., Ltd., and help set a new standard in information security for interactive whiteboards in education and other spheres of life.
About Satsuki Co., Ltd.
Satsuki is engaged in manufacturing and selling OEM (Original Equipment Manufacturer) and EMS (Electronics Manufacturing Service) solutions, including consumer electronic devices and industrial equipment. The company also coordinates the production and promotion of energy-saving solutions.
Since 2017, the company has been steadily increasing its share on the interactive whiteboard market.
Tell us what you think
To ask Doctor Web's site administration about a news item, enter @admin at the beginning of your comment. If your question is for the author of one of the comments, put @ before their names.
Other comments