June 24, 2010
The Russian anti-virus vendor Doctor Web announced the release of the completely reworked version of its free utility Dr.Web CureIt! that comes to rescue of millions of users all over the world in the time of need. The updated version features brand new algorithms for neutralization of cyber threats. During beta-testing the utility demonstrated superior efficiency compared with other Dr.Web products. Improvements incorporated into the new Dr.Web CureIt! will be implemented in the commercial version of the utility and later in all Dr.Web products.
The key innovation of Dr.Web CureIt! is its own starter that solves curing issues that arose due to flaws in operation of a standard WinRAR unpacker. It also minimizes the probability for malicious programs to block the utility upon its starting and doesn't allow unpacking the file without launching it. By now intruders might take advantage of the latter issue and use third party tools to build the utility on their own and spread Trojans disguised as Dr.Web CureIt!.
Dr.Web self-protection is initiated at the earliest phase of launching. New stealth algorithms allowing the utility to remain unnoticed by viruses rule out the possibility of blocking before this point.
In order to deal with widely spread Trojan.Winlock programs the unique blocker neutralization mode has been implemented in Dr.Web CureIt!. Upon launching the utility all its windows are displayed on a protected desktop that can't be blocked by malware. A user receives a notification informing him that he may continue using Dr.Web CureIt! in the enhanced protection mode (in this mode no other applications can be launched) or switch to the standard mode. If the user decides on staying in the enhanced mode, he won't be able to change for the standard mode of operation until scanning is completed.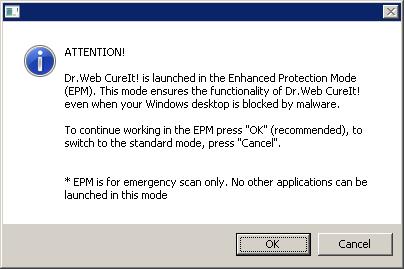 Unlike the previous versions, new Dr.Web CureIt! is fully compatible with various system emergency tools for Windows such as LiveCD.
System requirements of the utility have changed: now it runs only under Windows 2000 and later; support of both 32- and 64-bit systems has been implemented with self-protection and enhanced anti-blocker mode operational in both cases. As before the utility is updated as new virus databases are released to remain up-to-date at all times.
The new Dr.Web CureIt! proved to be highly demanded and received positive feedback from a large number of users during the beta-testing. Developers did their best to ensure that the upgraded utility would remain one of the most powerful tools of emergency anti-virus aid.
Tell us what you think
To ask Doctor Web's site administration about a news item, enter @admin at the beginning of your comment. If your question is for the author of one of the comments, put @ before their names.
Other comments