June 7, 2018
Russian anti-virus company Doctor Web is pleased to announce the debut of its Dr.Web vxCube, an emergency malware analysis and neutralisation service.
With Dr.Web vxCube, your files aren't just analysed; you also receive a special Dr.Web CureIt! build that incorporates a routine for disarming the analysed object.
Use Dr.Web vxCube—an on-demand antidote.
Using Dr.Web vxCube is easy: the user is granted access to an area where they can submit a suspicious file for analysis in the cloud; the analyser launches the submitted item to examine its behaviour and then decides whether or not the file is malicious. If the object poses a threat, the user is promptly furnished with a special Dr.Web CureIt! build.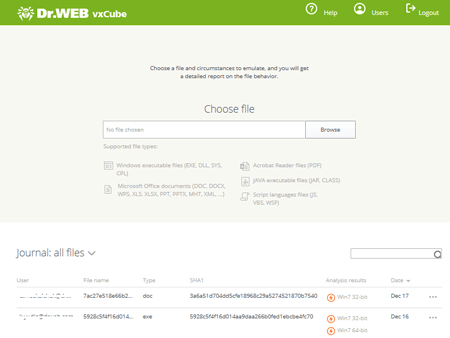 This service lets you expeditiously disarm a brand new threat without having to wait for a security software update.
On average, a submitted file can be examined in less than a minute, regardless of whether it is a Windows executable, an office document or a script. The file undergoing analysis is executed in a virtual environment; the customer can simultaneously monitor the progress of the analysis remotely via the Dr.Web vxCube interface. The resulting analysis report includes a video of the file's examination.
Statistics show that money can be stolen with a banking Trojan in three minutes or less—much faster than security software gets updated. The opportunity to procure a custom Dr.Web CureIt! build makes Dr.Web vxCube an indispensable tool for companies of any size, regardless of whether they are current users of Dr.Web software. Dr.Web vxCube can be particularly helpful for companies offering services involving PC curing and maintenance. And the ability to analyse files makes it indispensable for cybercrime investigators.
To use Dr.Web vxCube you will need a trial or commercial license.
With a Dr.Web vxCube trial license, you can examine 10 objects in 10 days. You can give it a try here.
You can purchase a commercial license in Doctor Web's eStore.
#Dr.Web
#services
#analysis
Tell us what you think
To ask Doctor Web's site administration about a news item, enter @admin at the beginning of your comment. If your question is for the author of one of the comments, put @ before their names.
Other comments