December 14, 2017
Russian anti-virus company Doctor Web provided free Dr.Web software licenses to Red Cross institutions in Mexico after the September 2017 earthquake.
On September 19, an earthquake hit central Mexico, causing destruction and the loss of human life. The Red Cross in Mexico was a major participant in the relief effort after the disaster. To ensure the stable operation of the information infrastructure of hospitals and the organisation's offices and to avoid malware incidents at that difficult time, Doctor Web and its Mexican partner Auditoría y Seguridad Informática provided the Red Cross with free licenses for Dr.Web Enterprise Security Suite. The anti-virus software kept the infrastructure secure and helped preserve the lives and health of those people affected by the cataclysm.
"On behalf of the Red Cross in Mexico, I'd like to express our deep gratitude to Doctor Web for contributing the free Dr.Web licenses. We are deeply grateful—particularly to Partner Relations Manager Galina Berdnik and the company's senior officers in Moscow—for the operational support", wrote Angelly Cabrera, the Red Cross fund raising manager in Mexico.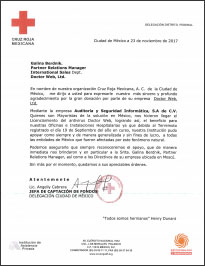 "Modern malware, especially encryption ransomware, can paralyse an entire network instantly. If an incident of this kind occurs in a hospital in an emergency situation, the consequences can be dire. So we tried our best to make a contribution, albeit a small one, and hope it proved helpful", said Galina Berdnik, Partner Relations Manager at Doctor Web.
Tell us what you think
To ask Doctor Web's site administration about a news item, enter @admin at the beginning of your comment. If your question is for the author of one of the comments, put @ before their names.
Other comments