October 26, 2017
Russian anti-virus company Doctor Web is pleased to announce the release of version 12 of its Dr.Web Security Space for Android. The software product is now equipped with a new component—Parental Control. Furthermore, its Security Auditor is now able to detect new, dangerous vulnerabilities; other modules also boast new features and upgrades. Known software issues have been resolved.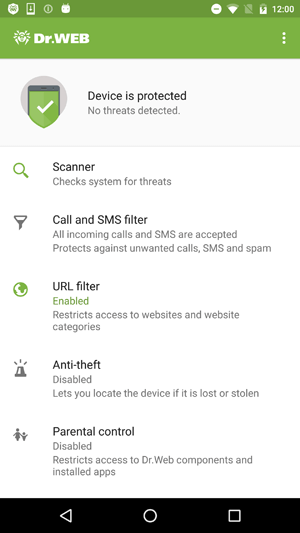 Account
The new version includes enhanced settings protection. Use the Account item in the application menu to password-protect access to certain Dr.Web Security Space for Android components and settings. A password will also be necessary to access the new component—Parental Control.
Parental Control
Thanks to the addition of Parental Control, Dr.Web Security Space for Android can now be used to restrict other users' access to the Call and SMS filter, installed applications, the URL-filter, and Dr.Web settings. Thus, an account owner can protect any children who may be using their smartphone from unknown and unsolicited calls and messages, prevent the launch of certain applications, and make sure the anti-virus settings aren't tampered with.
Security Auditor
The Security Auditor that comes with Dr.Web Security Space for Android detects a variety of vulnerabilities, such as Extra Field, Master Key, and Heartbleed, which can remain unpatched on Android-powered smartphones and tablets. The new component version is also able to discover BlueBorne and SIM Toolkit (CVE-2015-3843). For more information, please refer to this news post. In addition, the Security Auditor reviews information about certificates that have been installed by users.
Other changes in Dr.Web Security Space 12.0 for Android:
The URL filter now incorporates white- and blacklists and enables the user to grant access only to whitelisted sites.
Users can now purchase the product on Google Play before their current license expires.
The application now supports YandexBrowser Lite.
Files and system libraries can now in some cases be cured if root permissions are available on the device.
A Dr.Web Anti-virus Service Agent configuration issue on Android devices has been resolved.
Also fixed was an issue that prevented threat statistics from displaying correctly on the server (for Dr.Web Enterprise Security Suite and Dr.Web AV-Desk).
A defect causing the agent to disconnect from the Dr.Web Enterprise Security Suite or Dr.Web AV-Desk server prior to an application restart has also been eliminated.
The update will be downloaded and installed automatically. If you disabled automatic updating on your device, go to Google Play, select the Dr.Web Security Space or Dr.Web Security Space Life icon in the application list, and tap "Update".
To perform an update via Doctor Web's site, download the updated distribution. If you enable the settings option "New application version", a new version notification will be displayed whenever the virus databases have been updated. You can start the download directly from this dialogue box.
Dr.Web Security Space for Android is available free of charge to Dr.Web Security Space and Dr.Web Anti-virus license owners. The new version of Dr.Web for Android is also available as part of Dr.Web Mobile Security Suite (for business) and the Dr.Web Anti-virus service (for the Dr.Web Premium and Dr.Web Mobile subscription packages).
Tell us what you think
To ask Doctor Web's site administration about a news item, enter @admin at the beginning of your comment. If your question is for the author of one of the comments, put @ before their names.
Other comments