March 27, 2017
Russian anti-virus company Doctor Web has updated Dr.Web Security Space for Android to version 11.1.0. The updated product supports Android 7.0 and 7.1, offers an improved user interface and new features that enhance protection and make the application even more user-friendly. The update also addresses known issues in the software.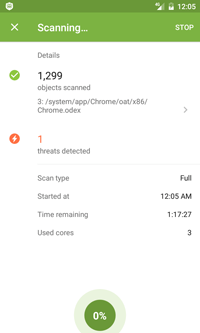 New in Dr.Web Security Space for Android:
Supported browsers now include Opera mini, Yandex.Browser, Adblock Browser, Dolphin Browser, Sputnik and UME browser;
To make license activation easier, users can specify a location for the zip archive that has been attached to the purchase confirmation email, without extracting the key file;
Users can now use the program's UI to purchase a commercial license before their trial is over;
The scanning window interface has been improved;
If the Anti-theft is used on a device that has two SIM cards, they can both be added onto the trusted list;
The Anti-theft's security has been enhanced for devices running Android 6.0 and later;
The Custom Scan interface can now be used to submit odex and so files for analysis;
Custom scanning is available for /sbin and /data directories on rooted devices.
The Security Auditor for Android 4.4 and later has had the category "Applications with the highest SMS processing priority" removed;
The application can now collect additional information for better troubleshooting;
The category "Online games" is now available so that the URL-filter can block access to such sites.
Fixes
Minor tweaks and improvements related to the product's operation in the centralised protection mode have been made.
Known firewall issues have been resolved.
Errors related to the Arabic UI have been corrected.
Also eliminated was a scanning issue on devices running Android 4.0 with root access available.
The updated application is available at Google play (Dr.Web Security Space for Android, Dr.Web Security Space for Android. Life License) and on Doctor Web's site.
The update will be downloaded and installed automatically. If you have disabled automatic updating on your device, go to Google Play, select Dr.Web Security Space or Dr.Web Security Space Life license on the application list, and click "Update".
To perform an update via Doctor Web's site, download the updated distribution. If you enable the settings option "New application version", a new version notification will be displayed whenever the virus databases have been updated. You can start the download directly from this dialogue box.
Tell us what you think
To ask Doctor Web's site administration about a news item, enter @admin at the beginning of your comment. If your question is for the author of one of the comments, put @ before their names.
Other comments