December 12, 2016
Doctor Web's security researchers found new Trojans incorporated into firmwares of several dozens of Android mobile devices. Found malware programs are stored in system catalogs and covertly download and install programs.
One of these Trojans, dubbed Android.DownLoader.473.origin, was found in firmwares of a large number of popular Android devices operating on the MTK platform. At the time this news article went to posted, the Trojan was detected on the following 26 models of smartphones:
MegaFon Login 4 LTE
Irbis TZ85
Irbis TX97
Irbis TZ43
Bravis NB85
Bravis NB105
SUPRA M72KG
SUPRA M729G
SUPRA V2N10
Pixus Touch 7.85 3G
Itell K3300
General Satellite GS700
Digma Plane 9.7 3G
Nomi C07000
Prestigio MultiPad Wize 3021 3G
Prestigio MultiPad PMT5001 3G
Optima 10.1 3G TT1040MG
Marshal ME-711
7 MID
Explay Imperium 8
Perfeo 9032_3G
Ritmix RMD-1121
Oysters T72HM 3G
Irbis tz70
Irbis tz56
Jeka JK103
However, the number of infected Android devices can be, in fact, even bigger.
Android.DownLoader.473.origin is a downloader Trojan which starts its activity every time a device is turned on. The malware program monitors the Wi-Fi module and then connects to the command and control (C&C) server in order to get the configuration file with instructions. The file contains information about the application the Trojan should download. After the program is downloaded, Android.DownLoader.473.origin covertly installs it.
The Trojan can download not only benign applications but also malware and unwanted ones. For example, Android.DownLoader.473.origin actively distributes the advertising program H5GameCenter that is detected by Dr.Web as Adware.AdBox.1.origin. Once installed, it displays a small box image on top of running applications. The image cannot be removed from the screen. It is a shortcut clicking on which opens a catalog integrated into Adware.AdBox.1.origin. In addition, the Trojan shows advertisements.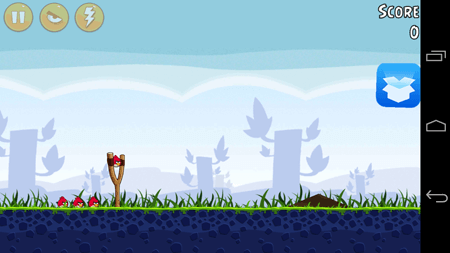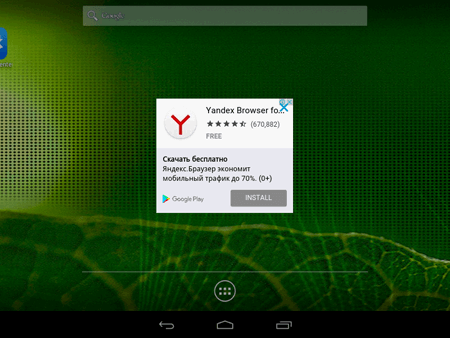 On various forums, Android users note that even if they delete H5GameCenter, it is soon installed on the system once again. It happens because Android.DownLoader.473.origin again downloads and installs Adware.AdBox.1.origin if the program has been deleted.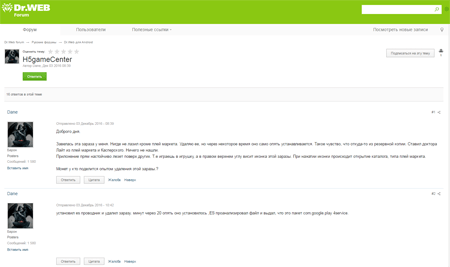 Another Trojan found on the devices Lenovo A319 and Lenovo A6000 was named Android.Sprovider.7. The Trojan is incorporated into the application Rambla which provides access to the Android software catalog named the same.
The payload of Android.Sprovider.7 is located in a separate program module (which is detected as Android.Sprovider.12.origin). It is encrypted and stored in resources of the main malware program. When a user unlocks the home screen, the Trojan checks whether the module is still active. If not, Android.Sprovider.7 retrieves this component from its body and runs it. The module Android.Sprovider.12.origin can execute the following functions:
Download an APK file and try to install it by obtaining the confirmation from a user.
Run an installed application.
Open the specified link in a browser.
Make a phone call on a certain number by using a standard system application.
Run a standard system phone application in which a specified number is already dialed.
Show advertisement on top of all applications.
Display advertisements in the status bar.
Create a shortcut on the home screen.
Update a main malicious module.
It is known that cybercriminals generate their income by increasing application download statistics and by distributing advertising software. Therefore, Android.DownLoader.473.origin and Android.Sprovider.7 were incorporated into Android firmware because dishonest outsourcers who took part in creation of Android system images decided to make money on users.
Doctor Web has already informed smartphone manufacturers about this incident. Users of the infected devices are recommended to contact technical support specialists to get the updated system software as soon as it is ready.
Dr.Web for Android detects Android.DownLoader.473.origin and Android.Sprovider.7 so that our users can check whether the firmware is infected.
Protect your Android device with Dr.Web now
Tell us what you think
To ask Doctor Web's site administration about a news item, enter @admin at the beginning of your comment. If your question is for the author of one of the comments, put @ before their names.
Other comments