August 2, 2016
Cybercriminals have always retained an interest in creating malware for POS (Point-of-Sale) terminals used to process card payments. IT security specialists are aware of many POS Trojans that facilitate the transfer of intercepted consumer data to criminals. A modification of one such Trojan was recently examined by Doctor Web's security researchers.
The Trojan, named Trojan.Kasidet.1, is a modified version of Trojan.MWZLesson. For more information about this threat, read this article published by Doctor Web in September 2015. Trojan.MWZLesson can also intercept GET and POST requests sent via Mozilla Firefox, Google Chrome, Internet Explorer, and Maxthon browsers.
Trojan.Kasidet.1 is distributed as a ZIP archive that contains a SCR file, which is a self-extracting SFX-RAR archive. This file then extracts and runs the main malicious payload.
The Trojan first checks whether its copy and any virtual machines, emulators, and debuggers are present in the infected system. If Trojan.Kasidet.1 finds a program that can somehow hinder its operation, it terminates itself. If not, it gains administrator privileges and runs itself. Even though the User Accounts Control (UAC) system demonstrates a warning on the screen, the potential victim is thrown off guard because the running application (wmic.exe) appears to have been developed by Microsoft: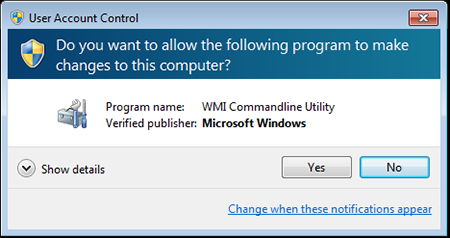 The wmic.exe utility then runs the executable file of Trojan.Kasidet.1. Like Trojan.MWZLesson, it scans the computer's memory for bank card track data obtained with the help of the POS terminal and transmits it to the Trojan's command and control (C&C) server. In addition, it steals passwords for Outlook, Foxmail, and Thunderbird email applications and can be incorporated into Mozilla Firefox, Google Chrome, Microsoft Internet Explorer, and Maxthon browsers for the purpose of intercepting GET and POST requests. This malware program can also download and run another application or a malicious library on the infected computer, find a particular file on a disk, or generate a list of running processes and transmit it to the C&C server.
However, unlike Trojan.MWZLesson, the C&C server addresses of Trojan.Kasidet.1 are placed in a decentralized domain zone—.bit (Namecoin). This is a system of alternative root DNS servers based on Bitcoin technology. Common browsers cannot access such network resources; however, Trojan.Kasidet.1 uses its own algorithm to get the IPs of its C&C servers. Although malware programs that use this Namecoin technology have been known since 2013, they are not frequently detected in the wild, unlike other Trojans.
Dr.Web Anti-virus successfully detects and removes this Trojan, and, therefore, this malicious program poses no threat to Dr.Web users.
Tell us what you think
To ask Doctor Web's site administration about a news item, enter @admin at the beginning of your comment. If your question is for the author of one of the comments, put @ before their names.
Other comments